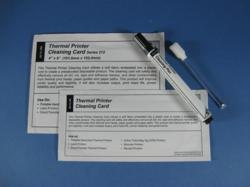 One of the benefits of thermal printer cleaning cards is that they are so simple to use.
Danvers, MA (PRWEB) September 25, 2012
POS Supply Solutions, Inc. (POS Supply) has expanded their offering of thermal printer cleaning products. Their thermal printer cleaning products can be used as part of a preventive maintenance plan to remove dirt and debris from thermal print heads and print rollers.
Thermal printer cleaning cards are specially designed to clean thermal print heads that are not easily accessible. Thermal printers use thermal printing technology which heats the paper thereby producing the image or print. Because the print head is extremely hot, any foreign materials on the print head can be burned on to it. Over time both environmental and paper flash particles will build up causing the print head to conduct less heat to the paper. Because less heat is transferred, the print begins to fade. Eventually the burnt on particles will damage the print head beyond repair. In addition to the print heads, thermal printer cleaning cards also remove contaminants from guide paths and rollers.
"One of the benefits of thermal printer cleaning cards is that they are so simple to use." said POS Supply's President Stephen Enfield. "Simply feed the card through the printer as you would any label or ticket stock. There is no need to disassemble the equipment and no need for a costly service call."
POS Supply offers additional cleaning products including swabs, wipes and pens. Thermal printer cleaning products can be used on receipt printers, barcode printers, cashless ticket printers, airline ticket printers, ID bracelet/badge printers and ID card printers. The benefits of cleaning thermal printers include:

Increase life of print-head
Reduce faded receipts or erroneous barcodes
Reduce need for reprints
Reduce manpower associated with broken equipment
Reduce damage to printer due to "self-help attempts"
POS Supply offers a comprehensive line of cleaning cards for a variety of industries. All products are in stock and available for immediate delivery. Customers can order cleaning cards from POS Supply Solutions with total confidence that they are receiving premium quality products at a great price.
About POS Supply Solutions
POS Supply Solutions provides point of sale and transaction supply solutions, serving a full spectrum of hospitality, retail, financial, gas station, medical, wireless and business transaction applications. Established in 1999, POS Supply Solutions' corporate facility is located in Danvers, MA with distribution warehouses strategically located across the United States. Over the past 13 years, POS Supply Solutions has worked with thousands of companies to ensure they receive the point of sale supplies needed for successful and efficient business operations. POS Supply Solutions was proudly named to the Inc. 500|5000 list of fastest growing companies of 2011.
Contact:
Stephen Enfield
President
POS Supply Solutions
(978) 406-4230
senfield(at)possupply(dot)com
http://www.possupply.com