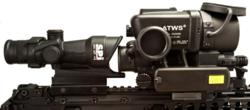 Look, I would never buy oranges from a guy on the side of the road
Las Vegas, NV (PRWEB) May 16, 2012
SPI Corp is a leading provider and manufacturer of thermal scopes and thermal imaging systems to Law Enforcement and Military professionals. They are a FLIR Systems Inc. Government Systems distributor and have worked very closely with FLIR systems on the distribution of T60 Thermal Scopes.
"FLIR Systems Inc. is the undisputed world leading manufacturer of thermal scope systems so It really means something when a company like that stands behind a product like this," explained Randall Kolchins, Director SPI CORP. The thermal scope business is a niche industry in which large defense teams like FLIR Systems Inc. play along side startups and so called "garage-based" builders. Industry standard warranties on thermal scopes seem to average 1 year or less. "There are so many new comers and pretenders in the thermal scope marketplace that our customers end up faced with many questionable choices these days," Stated Mr. Kolchins. "On paper all thermal scopes look good. So, our best advice is to buy from a real top shelf manufacturer like FLIR Systems so you can trust the quality of the thermal scope you're getting and you know the company will be there to stand behind it." The 2-year warranty is a factory sponsored warranty from FLIR Systems Inc. and covers the T60 Thermal Scope just as the standard warranty did. According to Mr. Kolchins, this is critical to protecting the consumer's investment.
"We have serious professionals investing their money or taxpayer money into serious tools like the T60 thermal scopes. I think it would be very risky for them to bet on products that are not backed by major manufacturers like FLIR Systems. The buyer has to be very wary these days. Anyone can promise anything to anyone but can they back it up?" asked Mr. Kolchins. "Look I can buy a cheap bag of oranges from a guy on the side of the road - they may be fine oranges but do you think I will believe him if he says they will last for 30 days? And if they don't, do you think I will be able to find him again or get new oranges or get my money back?" he continues. "But if I buy real oranges from a major grocery chain, I would trust the expiration date and if they went bad I would have no question in my mind that they would instantly make it right." As a point of disclosure, neither FLIR Systems Inc. nor SPI Corp is in the business of selling oranges or produce of any kind. "Look, I would never buy oranges from a guy on the side of the road so I am certainly not going to be buying thermal scopes from any 2nd or 3rd tier company. I wouldn't do it with my own money and I certainly wouldn't waste taxpayer money on a bad bet."
The FLIR T60 Clip on Thermal Scope was designed, developed and manufactured in a joint cooperation between FLIR Systems Inc. and Trijicon Inc. FLIR Systems is the leader in infrared technology and Trijicon is a world leader in combat optical sighting systems and maker of the US Military standard ACOG (Advanced Combat Optical Gunsight). The T60 combines the strengths of these two defense giants into a mission ready thermal scope that is accurate and durable in all conditions. "I can drive nails at 400 yards with a T60 and my ACOG 4x32, " exclaimed Darren Desoto, Lead Technician, SPI CORP. "Day or night targets are going down and groups are tight with this combo."
SPI Corp has been in the business of manufacturing and distributing Thermal Scope Solutions for well over a decade. Existing products include PTZ thermal imagers, thermal scopes and infrared cameras.
Potential customers interested in learning more about the FLIR Systems T60 Thermal Scopes or for purchasing options including the entire line of thermal scope solutions offered by SPI Corp can visit http://www.x20.org. Customers seeking immediate attention regarding these products should contact Jim Santana at 702-369-3966.