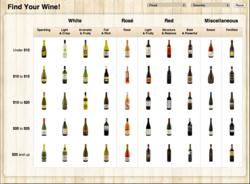 "Our wine finder tool give consumers the confidence to make their own buying decisions by intuitively reducing a broad selection of wine styles to a much more manageable number of options." Philip Rubin, Co-founder of The Wine Feed
Raleigh, NC (PRWEB) March 21, 2013
Wine consumers face a large number of options for purchasing wine, from brick-and-mortar stores to online retailers. The Wine Feed's 'Wine Finder' system cuts through the marketing fluff to help people make wine purchases based on the styles of wine they like to drink. This is a refreshing change from other wine retailers that are overly dependent on scores, brand names, and daily deals to sell relatively commonplace wines.
The recently updated 'Wine Finder' organizes 50 different featured wines by price and wine style; but things really become interactive when visitors use the 'Food' and 'Country' drop down menus at the top of the finder.
Here is an example of how it works: if a visitor knows they are having friends over for lunch salads, selecting 'Salads' takes the number of visible wines in the Wine Finder from 50 down to 20. If the same visitor knows their friends really enjoy wines from France, selecting 'France' under the country menu takes the aforementioned 20-bottles down to 8; making it much easier to compare the remaining selections.
It is important to note that the new interface is not designed to make a single recommendation of a "perfect wine". Co-founder of The Wine Feed Philip Rubin states: "Our Wine Finder tool give consumers the confidence to make their own buying decisions by intuitively reducing a broad selection of wine styles to a much more manageable number of options." He goes on to say that The Wine Feed highly values wine education and that the company strives to present "interesting and pertinent" information on the website as well as in-person tasting events and classes.
With plenty of gimmicks out there, The Wine Feed's finder tool will make sense to the novice as well as the more seasoned wine drinker—allowing for an enjoyable and informative wine shopping experience.
The Wine Feed
18-B Glenwood Avenue
Raleigh, NC 27603
(919)374-0036
contact(at)thewinefeed(dot)com