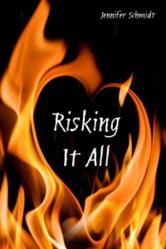 This book reminded me of Beautiful Disaster by Jamie McGuire, so if you liked that book, be sure to check this book out... you'll love it!
Arlington, TX (PRWEB) September 12, 2012
Should two friends risk their relationship and become lovers? Canadian author Jennifer Schmidt answers that question in her latest novel. "Risking It All" is a beautifully crafted story that steps into that gray area between friends and lovers. Schmidt has created characters readers will fall in love with. Early in the story, readers will root for the relationship to grow, even if they know it may mean the ending of a friendship.
Regarding her second novel with The Writer's Coffee Shop, Jennifer Schmidt says, "The title of this book says it all, and that's why I love it. "Risking It All" is not only about recognizing what's right in front of you but finding the courage to go after it."
Kennedy Monroe barely got her foot in her college dorm her freshman year before she was warned about a certain dark-haired, blue-eyed self-proclaimed "Casanova" named Memphis Adams. There were only so many tales of heartache, and incredibly steamy nights, she could hear about before she started to believe them. But after a run-in with the college womanizer, she forms a friendship with him that surprises everyone.
Twelve years later, Kennedy and Memphis are closer than ever, and only friends despite what those around them think, including Kennedy's boyfriend Ian Brooks. When Kennedy accepts an invitation from Memphis to vacation in Alaska, her relationship with Brooks is tested, as is her restraint when it comes to the desire she's always had for her best friend.
Alone with Memphis, Kennedy finds it harder to ignore temptation and wants nothing more than to give in to her secret desires with the one man that has always been off limits. But is one night of passion worth the possible risk of losing their friendship?
Feeling torn between doing the right thing and doing what she wants, Kennedy fears losing her best friend. She knows she needs to sort out her feelings for the two men in her life and deal with the consequences of her actions, but how can she when everything seems to be falling apart so fast? And how much can Memphis take before he's pushed too far and can no longer take Kennedy's inability to make a decision about what and who she wants?
Kennedy soon discovers the harsh reality of how one night can change everything and leave her risking it all.
Reviewers have fallen in love with "Risking It All". Blogger Melissa from Just One Opinion compared the book to one of the hottest bestsellers of the summer. "This book reminded me of Beautiful Disaster by Jamie McGuire, so if you liked that book, be sure to check this book out... you'll love it!"
Taking risks is what life is about. The Writer's Coffee Shop dares you to take a risk on this new, romantic, and sexy novel. "Risking It All" is a perfect way to heat up the fall reading season.
About the Author:
Ever since learning to read, Jennifer has had a love of books. There's hardly been a time since second grade she didn't have a book in her hand or close by. Her love for the written word soon inspired her to write her own stories. However, it wasn't until she found an online writing community that she took the first step and, hiding behind a penname, posted her work. After some persuasion from family and friends, Jennifer shed the penname, entered the 2010 TWCS Original Fiction Contest, and won for best romance. In 2011, Jennifer published her first novel, Last Call.
Website: Jennifer Schmidt can be found on The Writer's Coffee Shop and her website.
About the Publisher:
The Writer's Coffee Shop Publishing House (TWCS) is an up-and-coming independent publisher based in New South Wales, Australia. They recently gained a great deal of attention when they published Fifty Shades of Grey, the international literary sensation released in June 2011, now represented by Random House.
Launched in October, 2010 with the vision of working alongside talented authors while providing quality e-books to the growing marketplace, TWCS publishes a wide range of fiction titles that is sure to have something for any appetite.
Website: http://ph.thewriterscoffeeshop.com/