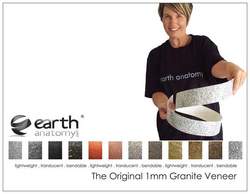 Offering our clients the beauty of granite in large, thin, natural veneer sheets, without the bulky weight, creates a new purpose and value for natural stone.
Willoughby, OH (PRWEB) November 11, 2010
Earth Anatomy™ Thin Panel Granite Veneer is changing the way people think about granite. We deliver product versatility and total cost savings to our customers by offering thin panel granite in the form of 1mm and 2mm natural veneer sheets.
Our customers understand granite can improve the value of a product or project. Well, instead of looking down to see granite... you might want to look up! How about a granite veneer wall? Few can fathom a "flexible" thin panel granite product; it's a completely new and exciting concept for design. When manufactured to less than 1mm total thickness, many products can become flexible - such is the case for Earth Anatomy™ Thin Granite Veneer.
Granite, commonly found in horizontal surfaces like floor tile and countertops, has a 1 - 3 cm thickness to withstand heavy wear and abuse. It is one of the most sustainable and durable natural products available. Earth Anatomy™, a very thin veneer of stone purposed for vertical and "light use" applications, is not intended for the same commercial use as thick countertop stone. As demand for natural stone surfaces increase, Earth Anatomy™ has carved a niche in vertical and "light use" applications. Varying industries such as aerospace, furniture and wall covering realize the benefits of light weight stone products. Offering the beauty of granite in large thin sheets without the bulky weight creates a new purpose and value for natural stone.
Much like the evolution of wood veneering technology, the use of next generation stone processing technology significantly increases the use and efficiency of 1 granite slab. 13 sheets (24" x 48") or 104 square feet of Earth Anatomy™ weighs less than 40 pounds. That's less than 1/2 pound per square foot! Natural thin panel granite sheets are made of 1/2mm of stone laminated to an equally thin layer of resinized fiberglass for support. The commercial fire rating of this product can range from Class A to Class C depending upon the company that is using the material.
"Next time you see an amazing design... a room with a feature wall, a piece of furniture, a veneer application... imagine what it could look like with natural granite," says RJ Thacker, Co-founder of Earth Anatomy™. In addition to the more customary flat surface applications, granite veneers can be wrapped around columns or inlayed to routered furniture surfaces, producing remarkable results.
Earth Anatomy™ has found success working with a variety of manufacturers and OEMs. Manufacturers have a strong history of specialized experience with veneers and laminated products. They usually have their own engineering and testing departments. The product behaves differently in different environments.
Currently product manufacturers and OEMs have been forced to use faux or digitized granite prints for projects calling for stone decorative finishes; they now have the option for the real thing.
"We typically do not see large sizes of granite used in vertical applications due to the difficulty in moving and fabricating large, heavy granite slabs. Earth Anatomy™ can bring significant value to new product developers looking for the next great natural yet extremely lightweight surfacing material," said Josh Morgan, Co-Founder of Earth Anatomy™.
Based on availability, Earth Anatomy™ is now taking limited preorders for our Fall 2010 Collection from manufacturers and OEMs with a deposit. If you want granite veneer incorporated into your product,... make a phone call or send us a message on our Contact page. Sample sets begin at $45.00. Be the first in your market segment to incorporate granite veneer. We can be found on the web at http://www.earthanatomy.com with company headquarters located in Willoughby, Ohio. Earth Anatomy™ is a Grizzly Partners,LLC product and 100% owned and operated by service disabled veterans from OIF.
# # #