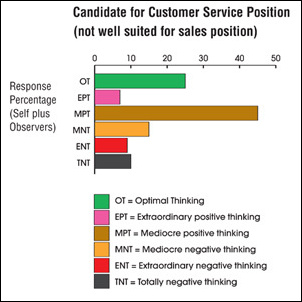 as they move up through the organization.
Beverly Hills, CA (PRWEB) May 3, 2007
"Our new Optimal Thinking Online Assessment empowers organizations to evaluate the core thinking level of potential candidates and existing personnel, determine where they best fit in the organization, and optimize - not just improve or manage - their performance. The Assessment also uncovers and resolves the thinking that compromises personnel engagement, satisfaction and loyalty," says Rosalene Glickman, Ph.D., international best-selling author of Optimal Thinking (Wiley, 7th printing and in 15 languages) and founder of OptimalThinking.com.
Supporting clients such as the Young Presidents' Organization, BP, Johnson & Johnson, U.S. Army, National Australia Bank, and Warner Bros., Glickman explains: "In Optimal Thinking organizations, the leaders and employees recognize the core driver behind mediocre thinking and performance - the need for acceptance. When mediocre thinkers learn how to employ Optimal Thinking, they serve as first-rate customer service personnel and support staff. They do their best, communicate optimally with customers, adhere to policies, rules and regulations, and fit in with the organization. This online assessment is best used throughout an organization, and is an integral part of our Continuous Sales Optimization Program."
Don McNamara, veteran sales management optimization expert at OptimalThinking.com and award-winning author of Visionary Leadership, believes: "Exercising due diligence with references, background checks, and credentials does not uncover the thinking style that best fits a sales team's dynamics and the company's culture. The Optimal Thinking Online Assessment objectively measures the thinking styles of candidates, so that leadership can accurately determine which candidates are the best fit for the sales organization. The sales personnel obtain a comprehensive understanding of their dominant thinking style, their other thinking styles, their strengths, weaknesses, and blind spots. They learn how to contribute their best, interact optimally with prospects, customers and employees, and maximize every situation. The Optimal Thinking Assessment empowers sales personnel to employ "best practices" as they move up through the organization."
According to Mark Friedman, sales lead optimization expert at OptimalThinking.com: "When sales leads are processed with mediocre thinking, sales and profits are compromised. A one-year study by Forrester Research (Improving B2B Lead Management, October 2006) found that companies in the top tiers of their sales lead management maturity model with optimized sales lead processes and procedures close almost twice as many leads as companies utilizing suboptimal processes (35 percent versus 19 percent). When sales organizations educate mediocre thinkers in the consistent application of Optimal Thinking, they maximize sales lead cost effectiveness and utilization."
For more information, visit http://www.optimalthinking.com/assess and http://www.optimalthinking.com/sales-optimization.html.
Availability:
Dr. Rosalene Glickman, Don McNamara CMC and Mark Friedman are available for TV, radio, and print media interviews. Call (310) 557-2761 to schedule an interview.
OptimalThinking.com is a division of The World Academy of Personal Development Inc, a Century City, Los Angeles, management optimization consulting and training firm.
Optimal Thinking® is a registered trademark of The World Academy of Personal Development Inc.
# # #