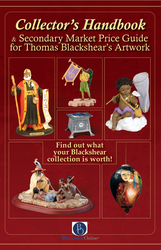 Ripon, CA (PRWEB) January 16, 2009
Helping to change the way that African-Americans are perceived, internationally acclaimed artist, Thomas Blackshear's Ebony Visions™ collection transcends race to reflect visions we all share regardless of the color of our skin. For the first time, collectors of Blackshear's works have a handbook that chronicles the history of his collection from its introduction in 1995 until today. To understand the significance of Blackshear's work, let's take a walk through the gallery of time. From the days of the Civil War, through the Harlem Renaissance, to the March for Civil Rights until the present day Inauguration, the way that black Americans have been represented in art is a lesson in the history of this country.
African-Americans have been depicted in American artworks since around the middle of the 19th century. During that time they were often shown in portraits wearing ragged clothes and portraying subservient behavior. These portraits are painful reminders of a sorrowful time in our nation's history.
In the early years, following the Civil war, American art reflected the massive social upheaval that followed the war's wake. To further, dehumanize blacks, they were represented in much of the Southern art with protruding red lips and poor clothing, shown grinning and eating watermelon. These awful depictions sought to undermine the spirit of the African-American and cast him outside or beneath the white social class.
By the mid 1870's, as Reconstruction grew near, African-American slaves were portrayed as living harmoniously with whites. Common were renditions of Mammy and her white charges, or Old George readying the carriage for his "Massa." These one-sided memories of happiness and tranquility remained nostalgic until the early 1920's around the time of the Harlem Renaissance.
During this unprecedented time, black American artists were actually welcomed into the art world. Finally, depictions of blacks imitating the styles of Europeans or white Americans were rejected. Emerging on the art scene were dignified renditions of people embracing their lives as black Americans and celebrating their African culture. The crash of the stock market and the ensuing Depression would put an end to the Renaissance.
After the years of World War II, when most Americans were once again employed and prospering, the average black American was still struggling for equal rights and equal pay for their labor. One man spoke the words that would live on forever, Dr. Martin Luther King, Jr., would declare that he had a dream and bring a whole nation to its feet. Much of the artwork of the 60's and 70's portrayed African-Americans in black power movements and civil rights acts.
By the mid 1980's, the first generation of children free from segregation gave way to opportunities and successes unattainable and sometimes unimaginable by their ancestors. This would begin the real changes in the way that African-Americans were regarded in art and history. It is not unheard of for a black American to win a golf championship, become a millionaire, be crowned Miss America, or be elected to the highest office in the land.
In an extraordinary and proud time in this nation's history we have risen above our racial issues to elect Barack Obama, a black American, as President of the United States. Making it possible for all Americans to dream the American dream, to pursue the opportunities of this country and be willing to serve as one united country, undivided by race.
We are living in an exceptional time and the artwork of today should reflect the attitudes of our generation. One man has been creating works of art that transcend stereotypes to celebrate the lives and culture of African-Americans. Thomas Blackshear had a dream, too. To elevate the way African-Americans see themselves, he wanted to create art that truly depicted black people as beautiful and elegant.
His concept was not easily accepted, but he continued to pursue his dream and in 1995 introduced the first pieces of his Ebony Visions collection. Thomas says, "Ebony Visions reflects not only my own visions as a black man, but also unique visions of black people. Emotions like hope, love, tenderness, faith and serenity know no boundaries. My work is meant to transcend all racial and cultural lines, because in essence, the physical and spiritual expression in my sculptures are all part of the human experience."
You can unfold the history of Thomas Blackshear's Ebony Visions™ collection in an unprecedented First Edition Collector's Handbook and Secondary Market Price Guide, presented by Collector Hub, the internet's pre-eminent gathering place for fans and collectors of Thomas Blackshear. If you've only recently learned of Blackshear's artistic genius, this handbook is just the introduction you need. For avid collectors of his works, this handbook validates the worth of collections such as Thomas Blackshear's Ebony Visions™, Blackshear's Ne'Qwa Art™ ornaments, The Blackshear Jamboree Parade™, Blackshear's first artist doll, Star Catcher™, Kente Claus™ Santa Claus, The Blackshear Style™ boxes & busts, Clothtique® holiday designs, and his Starlite Studio™ busts.
Never before has a guide of this kind been offered anywhere, featuring full color product images and important tips on repairing and insuring your collectibles. It's complete with original prices and estimated secondary market values with easy-to-follow worksheets that will help you assess your investment. For those who just enjoy the works of Thomas Blackshear, you can learn about the artist's inspiration and how his faith in God keeps him motivated. You can even find out about signing events where you get the chance to meet and speak with Thomas. This Collector's Handbook is a "must have" for collectors or admirers of Blackshear's art.
"One of the driving forces that make Mr. Blackshear's art so attractive to collectors is its constantly escalating value on the secondary market," exclaims Larraine Covington Community Director of Collector Hub. "The Storyteller, one of the most sought-after pieces of all time from the Ebony Visions collection, has been sold out since 1996. It originally sold for $410 in 1995, and is currently trading on the secondary market for up to $5000."
About Thomas Blackshear -- As one of the hottest contemporary collectible artists in the world, Thomas has helped bring the African-American experience to life in a way that has never been conceived of before. A touring exhibit of his Black Heritage works premiered at the Smithsonian Institution's National Museum of American History. He has been honored with the coveted International Collectible Artist award. He has also been featured on The 700 Club, Ebony/Jet Showcase, and in The Saturday Evening Post. Blackshear has created works for Disney, Coca-Cola, National Geographic, the United States Postal Service and Universal Studios, just to name a few.
Starting December 20, 2008 and continuing until March 22, 2009, you can view Thomas's work in the largest exhibition of Western art by black artists ever assembled. Blackshear's works, along with 15 other artists are helping to commemorate the Black West. Displayed at the Booth Museum in Cartersville, GA, this groundbreaking presentation tells the often overlooked story of blacks in the West through the art of contemporary African American artists. In addition to the stories of black cowboys and buffalo soldiers, the art chosen for the exhibition focuses on the complete African-American experience in the West, encompassing black explorers, lawmen, rodeo stars, outlaws, and women.
About Collector Hub -- Established in 2001, our goal is to continue to be the most comprehensive Thomas Blackshear community by providing the essential link collectors need to interact and share ideas and information, and conveniently and confidently purchase Thomas Blackshear products online. Most importantly, we realize that collecting is a very personal experience and that collectors appreciate a web site run by collectors who truly understand and care about the quality of the content. Come visit us on the web at CollectorHub.com.
All trademarks and brands are the property of their respective owners.
# # #