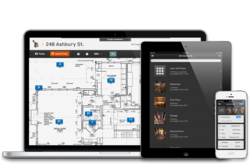 We see connecting all project team members, not just contractors and subcontractors, as paramount to opening communication and transparency on construction projects
San Francisco, CA (PRWEB) March 20, 2013
Threshold, a leading construction photo management solutions provider, has announced the release of version 2.0 of their mobile app. Threshold expects the new app will drastically reduce the time it takes to organize, document, and distribute building photos. The app has been completely redesigned to tie two sides of construction photo management together: taking and viewing photos. They've also added photo commenting, greatly enhanced the camera functionality, and optimized the app for all versions of the iPad.
Threshold v2.0 is now divided into Photo Management and the all new Project View. Project View is the crucial feature that was missing in v1.0. Now any project team member or construction project owner can keep track of their construction projects by viewing photos that are uploaded to the platform in real time. "Our mobile solution enables frictionless collaboration and communication between project team members, regardless of company affiliation. Of those project team members, one of the least catered to and most crucial team member is the client. We see connecting all project team members, not just contractors and subcontractors, as paramount to opening communication and transparency on construction projects," stated Adam Freeman, COO of Threshold.
In addition to enabling clients to view photos, Threshold also now lets them add comments, allowing clients and contractors to engage in a conversation that doesn't require time-consuming phone calls or lengthy emails. This centralized platform greatly streamlines project communication.
Photo Management has also been rebuilt to quickly allow contractors to take, organize, and share all of their photos right from the jobsite. Contractors no longer need to complete the cumbersome task of uploading photos from a digital camera to their computer and then sorting the photos into static file folders. All of this can now be done on their mobile device in the field right after the contractor takes their photos. Threshold estimates that this will save a construction company 50 to 100 hours over the duration of a one year project.
Other enhancements include background photo uploading, the ability to preload a user's previous upload parameters, and an integrated application tour.
Threshold, headquartered in San Francisco, CA, is a construction technology provider. Founded in 2011, Threshold has become a leading construction photo management web and mobile application. Since adding its first users in 2012, Threshold has grown to provide seamless photo management to nearly one thousand general contractors across North America. For more information, visit Threshold.