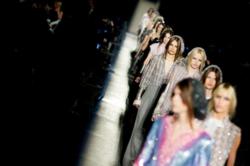 "It's a new era in fashion - there are no rules. It's all about the individual and personal style, wearing high-end, low-end, classic labels, and up-and-coming designers all together."
— Alexander McQueen
Hollywood, CA (PRWEB) March 05, 2013
In today's world where the masses wait with baited breath to see the latest designs being debuted on celebrities at the Academy Awards, that many people are opting to wear apparel plucked from decades prior seems counter-culture. From the vintage fashions of the 20's to the grunge apparel of the 90's, young fashionistas are finding new ways to reinvent themselves at LA's best thrift stores. Hollywood, a city reputed for its chic and glamour, is populated by thousands of young aspiring ingénues and leading men vying for fame. The daunting challenge of having to dress like a star on a barista's budget has spurred Hollywood's most beautiful people to turn "thrift shopping" into the latest new fad.
Celebrity stylist, Paula Biren, who has dressed clients for the White House to the Grammys, comments, "You can get the look without the pocketbook. What's in right now is thrift shop couture." Biren will be styling the models from the stores' eclectic and diverse apparel. What will she be looking for? "It's all about the F words- fit, fashionable, and fun. And, if it happens to be a famous designer, it's a plus!".
The fashion show couldn't be more timely! The most requested song on the radio right now is "Thrift Shop" by Macklemore and Ryan Lewis. The song's music video has been viewed on YouTube more than 135 million times and reached number 1 on the US Billboard Hot 100 chart leaving no doubt that the Thrift Shop phenomenon has caught fire. With Hollywood's most popular thrift stores being frequented by the likes of Nicole Kidman, Julia Roberts, Chloe Sevigny and Drew Barrymore, vintage shopping is no longer for those shopping on a dime. Rather, it is for the dedicated fashion connoisseur seeking a timeless fashion treasure that will make them stand out from the crowd.
Doors open at 9:30pm and the Fashion Show starts promptly at 11pm, Friday, March 8. Admission is $20 at the door, or FREE with shopping receipt from American Rebel, American Vintage, or Buffalo Exchange. Prizes are awarded to guests flaunting the best vintage couture and include gift certificates up to $500 in value. Hollywood hotspot, BOULEVARD3, is located at 6523 Sunset Blvd, between Wilcox and Schrader.
Press inquiries to kim@boulevard3.com or (323)466-2144.