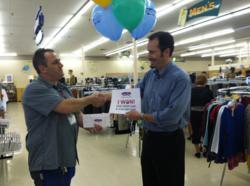 We already get such great value out of the store, winning was a bonus! When I went to the store to pick up my prize there were balloons, pictures, and a big announcement on the P/A, what a treat! ~Kelly C., VIP Winner, San Antonio, TX
Roseville, CA (PRWEB) May 31, 2012
It's no secret that shopping at thrift stores can stretch a dollar, but at Thrift Town customers get paid, literally, simply by being part of their free VIP program.
Yes, it's true. Just recently, Kelly C. from San Antonio, TX won $250 in cash, a $100 Thrift Town Gift Card, and an all access store tour. Earlier this year, Jennifer R. from Sacramento, CA won $500 in cash and a $100 Thrift Town Gift Card, and soon, Thrift Town plans on giving away not one, but two $250 shopping sprees, one for you and one for a friend, in addition to flying Thrift Town fashion and décor specialists to the winner's nearest Thrift Town location to help design that perfect outfit or room!
"I was so surprised and excited about winning! My wife and I are at Thrift Town almost every weekend looking for gifts or things for ourselves and daughter. We already get such great value out of the store, winning was a bonus! When I went to the store to pick up my prize there were balloons, pictures, and a big announcement on the P/A, what a treat! Thank you so much for everything." ~Kelly C., San Antonio, TX
Thrift Town's VIP program is their way of saying thank you for shopping at Thrift Town. To show appreciation, several fun and exciting contests are run throughout the year where all online VIPs are entered to win, simply for being signed up as a VIP. In addition to being automatically entered to win the quarterly random drawing contests, VIPs are the first to receive sale alerts, exclusive coupons, early bird hours, and vouchers for free gifts during special promotional periods. Signing up is easy to do, and no purchase is necessary. Sign up before July 31st in order to be automatically entered to win the double shopping spree giveaway, and receive a $5 off coupon. Thrift Town does not sell private contact information.
Thrift Town runs other fun consumer friendly contests that rewards the environmental and budget savvy, such as Best Dressed at the Prom, Best Halloween Costume & Décor, Ugly Holiday Sweater, and a quarterly What a Find contest that boasts the following six categories: Best Bargain, Best Fashion Item, Best DIY/Craft, Best Furniture/Housewares, Best Collectible, and What the Thrift/Craziest Find! Thrift Town is also known for their social media promotions (check out Yelp's June promotion), epic sales such as upcoming $0.99 Trunks & Tees Sale June 14th and 15th, and Senior Citizen Mondays where every Monday all clothing is 30% off if you're 60-years or older.
In addition to treating their customers like VIP's, Thrift Town lives it's vision statement of being committed to making a difference every day, helping to raise over $250,000,000 for their charity partners, and keeping more than 40-million pounds of product out of landfills annually. Each of Thrift Town's 15 award winning clean, bright, and organized store locations put out 4,000 like-new items daily, setting them apart as the premier thrift destination. Thrift Town is owned and operated by Norquist Salvage Corporation, which has spent over four decades dedicated to socially responsible recycling.