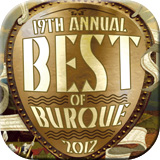 Thrift Town's not your tame little vintage boutique — it's a massive beast of a thrift store, with a huge selection and dizzyingly low prices.
~ San Francisco Bay Guardian
Roseville, CA (PRWEB) May 24, 2012
Year after year Thrift Town Stores have consistently been recognized by various reader choice awards as Best Thrift Store. Thus far in 2012, Thrift Town has lived up to their slogan of being the First-Class Second Hand Store by recently being crowned Best Thrift Store in Albuquerque in both Best of Burque's and Local IQ's Smart List 2012 editions.
It isn't a fluke that Thrift Town receives accolades year after year. Thrift Town isn't your stereotypical thrift store. The San Francisco Bay Guardian said it best; "Thrift Town's not your tame little vintage boutique — it's a massive beast of a thrift store, with a huge selection and dizzyingly low prices."
Shopping thrift is not only easy on the wallet; it's environmentally friendly as well. Thrift Town actively encourages consumers to reuse and recycle as much as possible, and practices what they preach by keeping nearly 40-million pounds of product out of area landfills each year. In addition being environmentally conscious, Thrift Town puts customers first and has many consumer friendly programs that reward the public with gift cards, cash, and prizes just for being part of Thrift Town's VIP program, or for entering seasonal and ongoing online promotions such as Best Thrifted Finds, Best Halloween Costume & Décor, Best Dressed at the Prom, and Ugliest Christmas Sweater Contests.
In 2011 Thrift Town won Best Thrift Store in the following markets and publications:

Fort Worth Weekly – Fort Worth/Tarrant County, Texas
Sacramento News & Review - The Greater Sacramento Area, CA
SF Bay Guardian - The San Francisco Bay Area, CA
SF Weekly – San Francisco, CA
San Antonio Current – San Antonio, Texas
Weekly Alibi – Albuquerque, New Mexico
Local IQ – Albuquerque, New Mexico
Thrift Town understands there are many choices when it comes to thrift shopping, and would like to thank their loyal consumer base for always shopping Thrift Town first. Thrift Town has 15 store locations in four western states and lives its vision statement of being committed to making a difference every day, by helping raise over $250 million dollars for their charity partners. Thrift Town's clean, bright, and organized stores put out 4,000 new products daily, setting them apart in the thrift world as the premier thrift destination. Thrift Town is owned and operated by Norquist Salvage Corporation, who has spent four decades dedicated to socially responsible recycling.