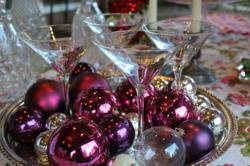 Elegance and style don't have to be compromised when you are on a budget. You can find so many wonderful, and very unique, treasures at Thrift Town. Wendy Steinmetz, Vice President, Norquist Salvage Corporation.
Roseville, CA (PRWEB) November 23, 2011
Decking the halls this holiday season doesn't have to cost a fortune. Thrifty entertaining is quickly becoming a trend for many reasons. Not only is it easy on the pocketbook, it's good for the environment, benefits local charities, and the finished look is beautiful and unique. Below, Thrift Town provides a few quick and easy tips guaranteed to wow guests and thrift critics alike.
1. Putting battery operated lights into clear or crystal vases, decanters, or jars are a great way to provide additional light and add a classy, festive vibe to holiday décor.
2. Don't just put stemware on a silver tray and pass it around the party for people to take drinks off of, jazz it up by filling the tray with brightly colored ornament balls as shown in the accompanying photo.
3. Bring life to your holiday buffet table by using a bright and festive flat bed sheet as a tablecloth. Traditional tablecloths are usually conservative by design, whereas bed sheets come in a wide variety of colors and patterns, and are inexpensive at thrift stores.
4. Create a holiday food display or cake stand by stacking candlesticks and colorful plates making multi tiered platters. Be sure to glue the plate to the candlestick for stability.
5. Don't throw away your burnt-out outdoor holiday light bulbs. Putting them into a clear vase makes a cute, free, and earth friendly display.
6. Wreaths don't just have to be hung on doors; flip one on its back and create a beautiful centerpiece. Place a large candlestick in the center and voilà, beautiful and unique.
To see the above tips come to life and for more inspirational décor and gift ideas, watch Thrift Town's YouTube video, or visit http://www.thrifttown.com .
Thrift Town is full of treasures just waiting to be found. Thrift Town is open seven days a week. Our friendly crew members are happy to help in the hunt for treasure! Click here to see if there's a store location near you. And remember, as Vice President of Thrift Town Wendy Steinmetz put it, "elegance and style don't have to be compromised when you are on a budget. You can find so many wonderful, and very unique, treasures at Thrift Town – holiday decorating with a thrift style is fun and responsible, and the best part is your home will look & feel absolutely spectacular!"
Thrift Town lives its vision statement of being committed to making a difference every day, raising nearly $85 million dollars for their charity partners by purchasing goods from their charity's household recycling programs. Thrift Town's clean, bright, and organized stores put out 4,000 new products daily, setting them apart in the thrift world as the premier thrift destination. Thrift Town is owned and operated by Norquist Salvage Corporation, which has spend nearly four decades dedicated to socially responsible recycling.
###