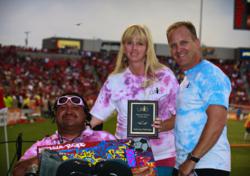 "It was an honor to accept this meaningful award on behalf our entire Thrift Town team." Jeff Norquist
Salt Lake City, UT (PRWEB) August 17, 2011
Utah Association for Intellectual Disabilities (UAID), presented Thrift Town with their inaugural Business Partner of the Year award during halftime of the Real Salt Lake vs. Columbus Crew MLS game at Rio Tinto Stadium in front of over16,000 fans.
Katherine Scott, UAID's Volunteer Executive Director said "the core criteria in which the finalists were evaluated consisted of dissecting which company has a long term commitment to making a difference in the community which UAID serves. Thrift Town has consistently gone above and beyond, far surpassing contractual obligations, ensuring client, volunteer, and monetary needs are met." UAID is dedicated to supporting Utah individuals with intellectual disabilities and their families thru self esteem building, work skills enhancement, peer interaction, healthy lifestyles and other life enrichment activities.
Thrift Town President and C.O.O, Jeff Norquist was on hand to receive the award, along with Cyndi Goalen Thrift Town's Donor Service Manager for Salt Lake City. "It was an honor to accept this meaningful award on behalf our entire Thrift Town team, especially at such a fabulous event. I was extremely impressed to see the UAID team come together the way they did and share with their community how important their work really is. I am proud of our partnership with UAID because I know that working together we really do make a difference!" ~ Jeff Norquist; President/ C.O.O. of Thrift Town & Norquist Salvage Corporation.
Thrift Town operates 15 thrift stores in four western states. Thrift Town lives its vision statement of being committed to making a difference every day by partnering with charities such as UAID, purchasing enough household donations to supply all 15 of their stores with 4,000 new products daily. Their clean, bright, and organized stores set them apart in the thrift world, making them the premier thrift destination. Thrift Town is owned and operated by Norquist Salvage Corporation which has spent over three decades dedicated to socially responsible recycling. To see if there's a store near you, please visit Thrift Town
To learn more about UAID services and ways you can help, please visit http://www.uaidutah.org.
###