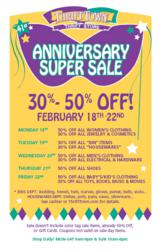 Not only is our company good for the community, it is also good for our charity partners, the environment, and our crew members. ~Wendy Steinmetz, Co-Owner, Thrift Town Stores
Roseville, CA (PRWEB) February 15, 2013
41-years-ago the Thrift Town opened its first store in the beautiful San Francisco bay area. To celebrate over 40 years of thrift with the communities that have helped them earn multiple Best of Thrift awards, raise over $250,000,000 for local charity partners, and keep billions of pounds of product out of local area landfills, Thrift Town is hosting a blowout, week-long anniversary super sale, full of dizzying low prices.
41st Anniversary Sale Details:
Monday, February 18th: 50% off Women's Clothing & 30% off Jewelry and Cosmetics
Tuesday, February 19th: 30% off Bins & Housewares
Wednesday, February 20th: 50% off Men's Clothing & 30% off Electrical and Hardware
Thursday, February 21st: 50% off all Shoes
Friday, February 22nd: 50% off Baby's and Children's Clothing & 30% off Toys, Books, Music, and Movies
Thrift Town was founded in 1972 by Bud & LaVey Norquist and Steve Moore. Their goal was to make Thrift Town a clean, well-lit, and organized place to shop with well-priced merchandise. The founders were committed to making an honest living, as well as helping to raise funds for charity. This same commitment holds true with the next generation currently running the business. The concept of our business is extraordinary. "Not only is our company good for the community, it is also good for our charity partners, the environment, and our crew members. We have built our business on providing a fun work atmosphere, competitive wages and excellent benefits to our employees." ~Wendy Steinmetz, Co-Owner, Thrift Town Stores.
Thrift Town has 15 stores locations in four different states, and an online logo gear shop featuring Thrift Town branded apparel and accessories. Thrift Town lives its vision statement of being committed to making a difference every day. Each of their clean, bright, and organized stores put out 4,000 new products daily, setting them apart in the thrift world as the premier thrift destination. Thrift Town is owned and operated by Norquist Salvage Corporation, which has spent over four decades dedicated to socially responsible recycling.
For more information, or to get connected with Thrift Town, visit thrifttown.com, Facebook/ThriftTown, Pinterest/pinthrifttown, Instagram or Twitter @thrifttown or #thrifttown. Thrift Town also has a robust customer appreciation VIP program which provides consumers exclusive coupons, sale alerts, and automatically enters members to win valuable and fun quarterly giveaways.