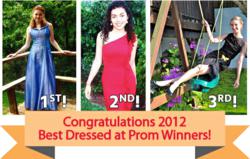 I found a dress that perfectly fit my style and budget. I had a fairytale-looking dress with the ideal color to complement my fiery red hair. The total out-of-pocket price for the evening was $10.81 including tax. ~Maddie T., Arlington TX
Roseville, CA (PRWEB) July 31, 2012
Thrift Town recently awarded three teens for being both economically, and environmentally conscious when it came to their prom attire this year.
Maddie T. of Arlington, TX, Lucia I. from Oakland, CA, and Nancy H. from El Sobrante, CA, all received news early last week that their entries into Thrift Town's 5th annual Best Dressed at the Prom Contest, were winners. Maddie T., won the grand prize; a new iPad2 and $100 Thrift Town Gift Card, and was awarded her prizes at her local Arlington, TX Thrift Town store. Maddie, who made and sold cookie dough in her neighborhood in order to afford to purchase the ticket to her school's prom, was thrilled to wear a thrifted dress to the big dance. Here's what she had to say.
"This is an original dress that nobody else has in their wardrobe. It was handmade and all the sequins were sewn by hand. I found a dress that perfectly fit my style and budget. I had a fairytale-looking dress with the ideal color to complement my fiery red hair. The total out-of-pocket price for the evening was $10.81 including tax." Maddie T., Arlington TX
$10.81 for a beautiful dress, and the peace of mind knowing nobody else will be showing up in the same dress, versus spending upwards of $100 on a mass produced dress purchased at a big box retail store was an easy choice for Maddie to make. Plus, it won her a new iPad2 and $100 to spend on a new-to-her wardrobe.
Nancy H., Thrift Town's second place winner was a thrift newbie, and only tried on her prom dress after much prodding from her mother. Her siren red stunner was less than $15 total. Nancy won a new Kindle Fire, a $100 Thrift Town Gift Card, and became a thrift believer for life. She is very glad she gave in to mom, and tried on the dress!
Third place winner Lucia I., got all her accessories at Thrift Town to finish off her prom attire, and spent a total of $4 for shoes, and jewelry. Lucia received a new iPod Touch, and $100 Thrift Town Gift Card for her economic savvy.
Thrift Town applauds 2012's Best Dressed at the Prom winners, and encourages teens to take note; you don't have to spend a ton of money to look like a million bucks. For first-hand examples of high quality, budget friendly prom and formal-ware products pulled directly from our stores, check out Thrift Town's recent segment on Good Day Sacramento and our Thrifty Prom blog post.
Entries were judged on the following criteria, and please note in order to qualify to enter this contest, contestants could either wear thrifted or borrowed attire to prom, but also, could donate their store bought attire post prom to a charity of choice.

30% = Dress/Suit actually worn to a prom or donated to charity
30% = Creativity/Originality
40% = Story/Description
Thrift Town has 15 store locations in four different states, and recently debut its online logo gear shop featuring Thrift Town branded apparel and accessories. Store hours are Monday through Saturday 9 a.m. to 9 p.m. and Sunday from 10 a.m. to 6 p.m. Thrift Town is well known for their customer service and engages with customers not only every day in store locations, but also via social media such as Facebook, Twitter, Pinterest, and yes, Thrift Town even has an app for that. Thrift Town has a robust VIP customer rewards program, dedicated weekly blog, and runs consumer contests raising awareness of the benefits of thrift in a fun and enriching environment.
Thrift Town lives its vision statement of being committed to making a difference every day, and is proud to have raised more than $250 million dollars for their charity partners. Their clean, bright, and organized stores put out 4,000 new products daily, setting them apart in the thrift world as the premier thrift destination. Thrift Town is owned and operated by Norquist Salvage Corporation, which has spent over four decades dedicated to socially responsible recycling.