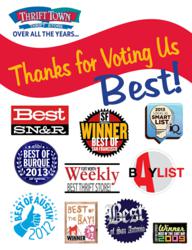 Thrift Town's not your tame little vintage boutique — it's a massive beast of a thrift store, with a huge selection and dizzyingly low prices. ~SF Bay Guardian
Roseville, CA (PRWEB) May 30, 2013
Year after year Thrift Town Stores have consistently been recognized by various reader choice awards as Best Thrift Store. 2012/2013 is no different.
Thanks to our customers and amazing crew, Thrift Town has recently won Best Thrift Store in the following markets and/or publications:
Best of Burque 2013 – Albuquerque, New Mexico

2012 Best of Austin, Austin Chronicle – Austin, Texas
2013 Best of Fremont – Fremont, CA
2012 Sacramento News & Review - The Greater Sacramento Area, CA
SF Bay Guardian - The San Francisco Bay Area, CA
SF Weekly – San Francisco, CA
2012 Best of the Bay – San Francisco, CA
Best of San Antonio – San Antonio, Texas
2013 Local IQ Smart List – Albuquerque, New Mexico
It isn't a fluke that Thrift Town has received accolades year after year. Thrift Town isn't your stereotypical thrift store. The San Francisco Bay Guardian said it best; "Thrift Town's not your tame little vintage boutique — it's a massive beast of a thrift store, with a huge selection and dizzyingly low prices."
Shopping thrift is not only easy on the wallet; it's environmentally friendly as well. Thrift Town actively encourages consumers to reuse and recycle as much as possible and runs quarterly and seasonal online contests. For more information on Thrift Town Stores, or to connect socially, please visit ThriftTown.com or find them on Facebook/Thrifttown, Twitter and Instagram at #thrifttown, or on Tumblr, YouTube, and Pinterest. Thrift Town also has a robust VIP customer rewards program that offers special coupons, events, and contest. Click here to sign up today and receive an instant $5 off coupon.
Thrift Town is owned and operated by Norquist Salvage Corporation and has 15 store locations in four western states which are open seven days a week. Thrift Town has spent over 41-years practicing socially responsible recycling in addition to helping raise over $250-million dollars for their charity partners. Their award winning clean, bright, and organized stores set them apart in the thrift world as the premier thrift destination.