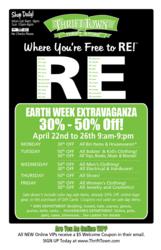 We love knowing that our retail business is part of the solution when it comes to answering the call to lessen the burden on our landfills and protect our environment. ~Wendy Steinmetz, VP of Marketing
Roseville, CA (PRWEB) April 19, 2013
Earth Week comes only once a year, but at Thrift Town we encourage people to recycle, reuse, repurpose, redecorate, rediscover, and restore everyday because it's environmentally responsible. Not to mention fun and easy on the pocketbook.
4,000 gently used items are put out daily at every Thrift Town store location.
Sale details:

Monday, April 22nd 30% Off All Bin & House-ware Departments
Tuesday, April 23rd 50% Off All Babies & Kid's Clothing & 30% Off All Toys, Books, Music & Movies
Wednesday, April 24th 50% Off All Men's Clothing & 30% Off All Electrical & Hardware
Thursday, April 25th 50% Off All Shoes
Friday, April 26th 50% Off All Women's Clothing & 30% Off Jewelry & Cosmetics
Thrift Town, a family owned and operated business which has spent over four decades dedicated to socially responsible recycling, is not only hosting the week long sale in honor of Earth Week, but proudly show how committed they are to making a difference locally each and every day, in all of their store communities, with the following environmentally friendly stats*:
Each of Thrift Town's 15 store locations prevent 2.6 million* lbs. of product from being dumped into surrounding area landfills by purchasing product from local charity partner's household recycling programs annually.
110,000* lbs. of product kept out of landfills each day.
770,000* lbs. of product kept out of landfills each week.
40,000,000* lbs. of product kept out of landfills each year.
Over the course of Thrift Town's 41-years in business, they have kept over 1.6 billion pounds of product out of landfills.
Thrift Town uses reusable carts to collect, sort, and distribute product.
Thrift Town has helped raise over $250,000,000 in net revenue for their charity partners over the past four decades.
*Actual statistical figures may slightly vary.
"All of us at Thrift Town take great pride in knowing that our commitment to socially responsible recycling absolutely makes a difference every day! Recycling usable household items and clothing has been a big part of our family business model for over forty years. We love knowing that our retail business is part of the solution when it comes to answering the call to lessen the burden on our landfills and protect our environment." ~ Wendy Steinmetz-Vice President
Thrift Town is owned and operated by Norquist Salvage Corporation, and has 15 store locations in four western states which are open seven days a week. Their award winning clean, bright, and organized stores set them apart in the thrift world as the premier thrift destination. For more information on Thrift Town Stores, or to connect socially, please visit ThriftTown.com or find them on Facebook, Twitter, Instagram, Tumblr, or Pinterest. Thrift Town also has a robust VIP customer rewards program that offers special coupons, events, and contest. Click here to sign up today and receive an instant $5 off coupon.