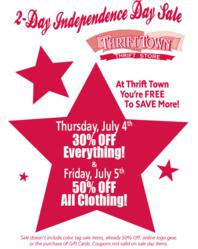 When it comes to celebrating our freedoms, we always say you are 'Free to RE' at Thrift Town; recycle, reuse, redecorate, repurpose, and refashion. We look forward to celebrating our independence with a big two-day sale. ~Wendy Steinmetz, Vice President o
Roseville, CA (PRWEB) June 30, 2013
All of Thrift Town's 15-store locations will be hosting a huge 2-Day Independence Day sale in honor of America's birthday. On July 4th Thrift Town customers will receive 30% off of everything in the store, and on Friday, July 5th, clothing will be discounted by 50% off of Thrift Town's already low prices.
If you're hosting a 4th of July BBQ or celebration, or just wanting to decorate and show off your patriotism, get inspired with ideas on Thrift Town's Thrifty Entertaining Pinterest board. Re-create these vintage looks for pennies on the dollar using thrift store finds.
"When it comes to celebrating our freedoms, we always say you are 'Free to RE' at Thrift Town; recycle, reuse, redecorate, repurpose, and refashion. We look forward to celebrating our independence with a big two-day sale." ~Wendy Steinmetz, Vice President of Marketing, Thrift Town Stores.
Shopping thrift is not only easy on the wallet, it's environmentally friendly as well. Thrift Town actively encourages consumers to reuse and recycle as much as possible, and practices what they preach by keeping more than 40-million pounds of product out of area landfills each year. In addition to being environmentally conscious, Thrift Town puts customers first and has many consumer friendly programs that reward the public with gift cards, cash, and prizes simply for being part of Thrift Town's VIP program, or for participating seasonal and/or ongoing online promotions such as Best Dressed at the Prom Contest, or #thrifttown hashtag contest on Instagram and Facebook.com/ThriftTown. For more information on Thrift Town's contests, VIP programs and more, go to http://www.thrifttown.com, download Thrift Town's iPhone app in the Apple App Store (droid version coming soon), or find them on Facebook, Twitter, Instagram, Tumblr, YouTube, or Pinterest.
Thrift Town understands there are many choices when it comes to thrift shopping, and would like to thank their loyal customer base for always shopping Thrift Town first. Thrift Town has 15-award winning store locations in four western states, and lives its vision statement of being committed to making a difference every day by helping raise over $250-million dollars for their charity partners. Thrift Town's clean, bright, and organized stores put out 4,000 new to you products daily, setting them apart as the thrift destination. Thrift Town is owned and operated by Norquist Salvage Corporation, which has spent over four decades dedicated to socially responsible recycling.