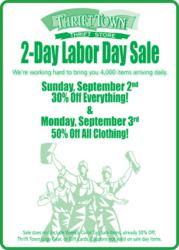 Thrift Town's not your tame little vintage boutique — it's a massive beast of a thrift store, with a huge selection and dizzyingly low prices.
~SF Bay Guardian
Roseville, CA (PRWEB) August 31, 2012
Just in time to stock up on fall fashions, Thrift Town hosts their annual 2-Day Labor Day Sale. Stop in any of Thrift Town's 15-store locations on Sunday, September 2nd to receive an additional 30% off all of their already incredibly low prices, and receive 50% off all clothing on Monday September 3rd.
According to HarpersBazaar.com, in order to be fashionable this fall, items that could rival treasures found in grandma's closet should be at the top of everyone's shopping list. With a retro mix of florals and lace, knit tweeds and even shawls expected to be staples this season, it's clear the best place to locate these items for pennies on the dollar is your local thrift store.
Well known thrift bloggers and everyday fashionistas have touted award winning Thrift Town as having the best thrift stores around for years and blog about their finds frequently. LookingFlyonaDime.com's Patrice J. Williams, and popular thrift fashion blogger Coco Kailee recently posted about their Thrift Town finds, and the SF Bay Guardian had this to say about Thrift Town, "Thrift Town's not your tame little vintage boutique — it's a massive beast of a thrift store, with a huge selection and dizzyingly low prices."
In addition to annual and holiday sales, Thrift Town offers deep discounts every week. For example, every Monday senior citizens (who are 60+ years young) receive 30% off all clothing items, and Thrift Town is famous for their rotating tag sale, where each week a color tag is 50% off. Thrift Town also offers additional coupons and giveaways to anyone who joins their free VIP program. To find out more about Thrift Town's many sales and customer appreciation programs, visit ThriftTown.com, or LIKE them on Facebook.com/ThriftTown as Thrift Town is very social! Get connected via Thrift Town's website, via other social media outlets such as Twitter, Tumblr, Youtube, and Yelp in addition to a dedicated thrift fashion board Thrift Town Fashionista, on Pinterest. There's even a free Thrift Town iphone app that can be downloaded from the Apple App Store.
Thrift Town has 15 store locations in four western states and lives its vision statement of being committed to making a difference every day, by helping raise over $250 million dollars for their charity partners. Each of Thrift Town's clean, bright, and organized stores put out 4,000 new products daily, setting them apart in the thrift world as the premier thrift destination. Thrift Town is owned and operated by Norquist Salvage Corporation, which has spend four decades dedicated to socially responsible recycling, and keeps on average over 40-billion pounds of products out of landfills annually.