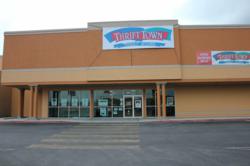 Our San Antonio customers have been asking us for a bigger store with better parking, and we are so proud to grant their wishes with this gorgeous, well-merchandised store. ~Wendy Steinmetz, Vice President of Marketing
Roseville, CA (PRWEB) July 27, 2012
Thrift Town Stores proudly debut their newest store location at 2864 Thousand Oaks Dr., San Antonio, TX 78232, on July 19th, 2012.
Thrift Town changed store locations in San Antonio to better serve the community. The 2864 Thousand Oaks Dr. location offers consumers more square feet for an easier shopping experience, more product selection, and also features state of the art merchandising. The former location of Thrift Town's San Antonio, 12247 Nacogdoches Rd., San Antonio, TX 78217 has officially closed. A formal grand opening celebration for the new San Antonio location is in the works.
Thrift stores in general have seen a dramatic increase in consumer traffic over the past few years due to the state of the economy. Studies show that people are simply smarter with their money and are turning to thrift shops for everyday items such as clothing and housewares in order to save on overall expenses. Thrift Town completely removes the stigma that has been traditionally associated with thrift, by opening facilities that rival big box retail stores, truly giving them a run for their money, and making the consumer feel comfortable and safe in a thrift environment, which can otherwise be overwhelming.
"Our San Antonio customers have been asking us for a bigger store with better parking, and we are so proud to grant their wishes with this gorgeous, well-merchandised store. Our entire team came together to bring the new Thrift Town to life, and our customers have already given us a huge, warm welcome. Thank you San Antonio - we are so thrilled to offer you this new and exciting Thrift Town shopping experience!" ~ Wendy Steinmetz, Vice President-Marketing
4,000 gently used items are put out daily at each of Thrift Town's stores. Thrift Town also recently extended store hours to accommodate consumer demands. Store hours are Monday through Saturday 9 a.m. to 9 p.m. and Sunday from 10 a.m. to 6 p.m. Thrift Town is well known for their customer service and engages with customers not only every day in one of their 15 store locations, but also via social media such as Facebook, Twitter, and Pinterest. Thrift Town also has a robust VIP customer rewards program, dedicated weekly blog, and runs consumer contests raising awareness of the benefits of thrift in a fun and enriching environment.
Thrift Town is owned and operated by Norquist Salvage Corporation, who has spent over four decades dedicated to socially responsible recycling. Their award winning clean, bright, and organized stores set them apart in the thrift world as the premier thrift destination. Thrift Town lives its vision statement of being committed to making a difference every day, and is proud to have helped raise more than $250 million dollars for their charity partners.