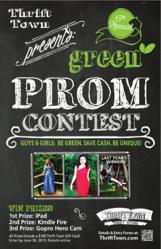 This is an original dress that nobody else has in their wardrobe. I found a dress that perfectly fit my style and budget. ~Maddie T., 2012 Winner
Roseville, CA (PRWEB) March 29, 2013
Thrift Town will reward economical and environmentally savvy teens who wear recycled fashion to prom in their 6th annual Best Dressed at the Prom Contest. Top prizes include an iPad, Kindle Fire HD, and Go-Pro Camera.
According to Prom-Night.com the prom experience can cost couples upwards of $1000, depending on how you choose to spend your money. Though prom goers don't get to determine the price of the dance ticket, they are in control when it comes to how much to spend on their chosen attire. Don't break the bank on a tuxedo rental that can cost around $100, when you can buy a gently used suit or tux with all the desired accessories from a thrift store for a fraction of the cost, and get to keep it. The same goes for beautiful evening gowns, which average much more than $100 each when purchased new. Thrift Town has beautiful gowns that range in price from $4.99 to $49.99, most of which were only worn for one night, and are high quality designer labels. Saving money on the cost of the attire allows budget room for custom tailoring or a complete gown redesign, making the garment go from good to fabulous with just a few snips and tucks. Shoes, handbags, jewelry and other accessories can also be purchased at thrift stores for pennies on the dollar. Going green to the prom also has the added benefit of never having to worry about showing up in the same dress as your classmate.
2012 contest winner Maddie T., from Arlington, TX paid only $10.81 for her dream dress. "This is an original dress that nobody else has in their wardrobe. It was handmade and all the sequins were sewn by hand. I found a dress that perfectly fit my style and budget. I had a fairytale-looking dress with the ideal color to complement my fiery red hair."
Check out Thrift Town's segment on Good Day Sacramento to see first-hand examples of high quality, budget friendly products, pulled directly from our stores.
Entries to Thrift Town's Best Dressed at the Prom contest are being accepted now through June 30th, 2013. In order to enter, contestants must have worn a thrifted suit, gown, or accessory to the prom, borrowed an outfit for the big night, or donated prom attire to a local charity (donation receipt required). Thrifted items need not be purchased at a Thrift Town store in order to qualify.
Submissions will be judged on the following criteria:

30% = Dress/Suit actually worn to a prom or donated to charity
30% = Creativity/Originality
40% = Story/Description
First place winner will receive a new iPad + $100 Thrift Town Gift Card*
Second place winner will receive a new Kindle Fire HD + $100 Thrift Town Gift Card*
Third place winner will receive a new Go-Pro Hero Cam + $100 Thrift Town Gift Card*
*If winner does not live near a Thrift Town store, another type of gift card may be awarded.
Click here for contest rules & consent form. For inspiration and to view last year's winners, check out Thrift Town's blog, and dedicated Prom web page.
Thrift Town has 15 stores locations in four different states which are open Monday-Saturday 9am-9pm, and on Sunday from 10am-6pm. Thrift Town is social and welcomes the opportunity to engage with customers online on Facebook/ThriftTown, Pinterest/PinThriftTown, Twitter, Tubmlr, and Instagram @ThriftTown or #ThriftTown, and even has a free app that can be found in the Apple Store. Thrift Town's robust VIP customer rewards program, dedicated weekly blog, and amazing consumer contests all raise awareness of the benefits of thrift in a fun and enriching environment. Thrift Town lives its vision statement of being committed to making a difference every day, and is proud to have raised more than $250 million dollars for their charity partners. Each of their clean, bright, and organized stores put out 4,000 new products daily, setting them apart in the thrift world as the premier thrift destination. Thrift Town is owned and operated by Norquist Salvage Corporation, which has spent over four decades dedicated to socially responsible recycling.