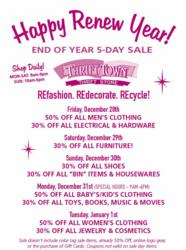 We love being part of the responsible recycling option for shopping - wishing our crew, customers, community and charity partners a fabulous Happy ReNew Year! ~Wendy Steinmetz, VP, Thrift Town Stores
Roseville, CA (PRWEB) December 27, 2012
Get inspired to REfashion, REdecorate, REstyle, REcycle, REuse, REpurpose, REdiscover, and REstore during Thrift Town's week long REnew Year Sale starting Friday, December 28th through Tuesday, January, 1st.
4,000 gently used items are put out daily at each of Thrift Town's store locations. Sale details are as follows:

Friday, December 28th 50% Off All Men's Clothing & 30% Off All Electrical & Hardware
Saturday, December 29th 30% Off All Furniture
Sunday, December 30th 30% Off All Shoes & 30% Off All "Bin" Items & Housewares
Monday, December 31st (Special Store Hours 9PM-6PM) 50% Off All Baby's/Kid's Clothing & 30% Off All Toys, Books, Music & Movies
Tuesday, January 1st 50% Off All Women's Clothing & 30% Off All Jewelry & Cosmetics
Thrifting is not only both fiscally and socially REsponsible, it's fun. Thrift Town is well known for their customer service and engages with customers not only every day within their stores, but also via social mediums such as Facebook/ThriftTown, Twitter, Instagram, and Pinterest/pinthrifttown/. Thrift Town also has a free and robust VIP customer rewards program, dedicated weekly blog, and runs consumer contests raising awareness of the benefits of thrift in a fun and enriching environment. Online contests such as Ugliest Christmas Sweater and quarterly What a Find and VIP Giveaways are open for entries now. In fact, on December 30th, Thrift Town will be randomly drawing a VIP winner from their database, who will win a $250 Thrift Town gift card and have $250 donated in their name to a Thrift Town charity partner of choice. Click here for more information on how to become a Thrift Town VIP.
"We love being part of the responsible recycling option for shopping - wishing our crew, customers, community and charity partners a fabulous Happy ReNew Year! May our over 4,000 recycled items we put every day in each one of stores bring great joy to people in the new year ahead". ~Wendy Steinmetz, Vice President, Thrift Town Stores
Thrift Town is owned and operated by Norquist Salvage Corporation, who has spent over four decades dedicated to socially responsible recycling. Their award winning clean, bright, and organized stores set them apart in the thrift world as the premier thrift destination. Thrift Town lives its vision statement of being committed to making a difference every day, and is proud to have helped raise more than $250 million dollars for their charity partners.