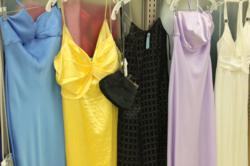 Attending a performing arts school, and having a passion for fashion, it was important to me to have a unique, self-designed dress for the big night. ~Natalee M., 2011 1st Place Winner
Roseville, CA (PRWEB) March 08, 2012
What shimmers, sparkles, and is green all over? The perfect recycled prom outfit, of course. It's that time of year when teens all across the land gear up for this legendary night filled with over-priced and cheaply made suits and gowns. Thrift Town wants to reward those rare teens in their 5th annual Best Dressed at the Prom Contest, who refuse to be part of the masses, and embody the trifecta of being fashionable, economical, and environmentally savvy. Prizes include an iPad 2, Kindle Fire, iPod Touch, and more.
According to Prom-Night.com the prom experience can cost couples upwards of $1000, depending on how you choose to spend your money. Though prom goers can't do anything about the price of the dance ticket, they are in control when it comes to how much to spend on their chosen attire. Don't break the bank on a tuxedo rental that can cost around $100, when you can buy a gently used suit or tux with all the desired accessories from a thrift store for a fraction of the cost, and get to keep it. The same goes for beautiful evening gowns, which average much more than $100 each. Thrift Town has beautiful gowns that range in price from $4.99 to $49.99, most of which were worn for one night, and are high quality designer labels. Shoes, handbags, jewelry and other accessories can also be purchased at thrift stores for pennies on the dollar. Going green to the prom also has the added benefit of never having to worry about showing up in the same dress as your classmate. Or, if nothing in the stores suits one's high fashionista standards, do what last year's winner Natalee M. from New Mexico did, and recreate the dress of her dreams. "Attending a performing arts school, and having a passion for fashion, it was important to me to have a unique, self-designed dress for the big night. I worked with my mom to create a sweetheart neckline and vintage-inspired silhouette from a Thrift Town find."
Entries are being accepted now through June 30th, 2012. In order to enter Thrift Town's Best Dressed at the Prom Contest, contestants must have worn a thrifted suit, gown, or accessory to the prom, borrowed an outfit for the big night, or donated prom attire to a local charity (donation receipt required). Thrifted items need not be purchased at a Thrift Town store in order to qualify. Submissions will be judged on the following criteria:
-30% = Dress/Suit actually worn to a prom or donated to charity
-30% = Creativity/Originality
-40% = Story/Description
First place winner will receive a new iPad 2 + $100 Thrift Town Gift Card*
Second place winner will receive a new Kindle Fire + $100 Thrift Town Gift Card*
Third place winner will receive a new iPod Touch + $100 Thrift Town Gift Card*
*If winner does not live near a Thrift Town store, another type of gift card may be awarded.
Click here for contest rules & consent form. For inspiration and to view last year's winners, check out Thrift Town's blog, and dedicated Prom web page.
Thrift Town has 15 stores locations in four different states, and recently debuted its online logo gear shop featuring Thrift Town branded apparel and accessories. Thrift Town lives its vision statement of being committed to making a difference every day, and is proud to have raised more than $250 million dollars for their charity partners. Their clean, bright, and organized stores put out 4,000 new products daily, setting them apart in the thrift world as the premier thrift destination. Thrift Town is owned and operated by Norquist Salvage Corporation, which has spent four decades dedicated to socially responsible recycling.