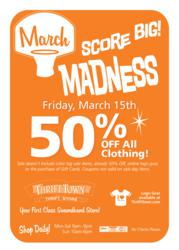 Thrift Town is a great place to see Spring in full bloom, as all of our stores are filled with brightly-colored fashions. ~Wendy Steinmetz, VP of Marketing, Thrift Town Stores
Roseville, CA (PRWEB) March 14, 2013
Take advantage and stock up on all the hottest spring fashion trends during Thrift Town's March Madness Sale, Friday, March 15th.
According to New York's Spring Fashion Week runways, there will be many wearable trends this season, and shopping at Thrift Town will make them affordable too. Top trends that can easily be found in thrift stores include; Bermuda shorts, dressy short suits, black and white combos, sheer and cut-out fabrics, plaid and floral patterns, low heeled shoes, leather, linen pants, skimmer jeans in bright colors, blazers, bold stripes, beaded clothing, and sunglasses of all shapes and sizes. Pantone.com's fashion color report for spring 2013 claims the hottest colors this season are African violet, emerald, jade, poppy red, nectarine, jade, linen, lemon, and lime can also be seen on clothing adorning fashion magazines and retail displays. Check out Pantone's full spring color forecast on their YouTube video linked to this release.
Expenses can add up quickly ensuring ones closet is spring ready. Thrift Town blogger, Kari Shipman, provides quick, easy, and inexpensive tips on Thrift Town's blog on how to makeover your closet in order to be fashion ready once the weather changes.
Thrift Town is also a great place to save money and shop for Easter basket and décor needs. For inspiration visit Thrift Town's Pinterest boards.
"Spring brings vivid, bright colors and fresh ideas to our wardrobes and into our homes. Thrift Town is a great place to see Spring in full bloom, as all of our stores are filled with brightly-colored fashions, exciting accessories and plenty of fresh home décor items that will celebrate the new season with a little pop of color." ~Wendy Steinmetz, VP of Marketing, Thrift Town Stores.
Thrift Town has 15 stores locations in four different states which are open Monday-Saturday 9am-9pm, and on Sunday from 10am-6pm. Thrift Town is social and welcomes the opportunity to engage with customers online on Facebook/ThriftTown, Pinterest/PinThriftTown, Twitter, Tumblr, and Instagram @ThriftTown or #ThriftTown, and has a free app that can be found in the Apple Store. Thrift Town's robust VIP customer rewards program, dedicated weekly blog, and amazing consumer contests which all raise awareness to the benefits of thrift in a fun and enriching environment, and yes, we even did the Harlem Shake- http://youtu.be/Itk117fIcvE .
Thrift Town lives its vision statement of being committed to making a difference every day, and is proud to have raised more than $250 million dollars for their charity partners. Each of their clean, bright, and organized stores put out 4,000 new products daily, setting them apart in the thrift world as the premier thrift destination. Thrift Town is owned and operated by Norquist Salvage Corporation, which has spent over four decades dedicated to socially responsible recycling.