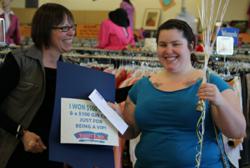 Wow you have changed my life for the better! I look and feel so beautiful". I actually stop and check myself out in the mirrors now. Words cannot thank you enough for going above and beyond for me. ~Lisa M., Thrift Town VIP
Roseville, CA (PRWEB) January 19, 2012
It pays, literally, to be a VIP at Thrift Town. This week, Jennifer S. from Sacramento, CA, was randomly selected from Thrift Town's VIP database to receive $500 in cash, along with a $100 Thrift Town gift card, just for being signed up in Thrift Town's VIP email marketing program.
Giving back to the community is nothing new for Thrift Town. Thrift Town prides itself on investing into not only communities in which their stores are located, but also in their customers. Jennifer was the most recent winner in the long history of Thrift Town VIP appreciation giveaways. Just a few months ago, Thrift Town VIP Lisa M. from Texas, was also randomly selected from Thrift Town's VIP database, and won an all expense paid trip for her and a friend to San Francisco. Once there, both Lisa and her guest were treated to a $500 shopping spree with a personal stylist at Thrift Town's massive two story San Francisco store located on the corner of 17th and Mission St. What made Lisa's story so special, is that she is confined to a wheelchair, and had given up on her personal appearance as far as fashion goes years ago. All that changed during her trip to Thrift Town, SF.
"WOW you have changed my life for the better! I look and feel so beautiful". I actually stop and check myself out in the mirrors now. Words cannot thank you enough for going above and beyond for me. Thank you so very much, for such an awesome weekend in San Francisco. I loved the tour of your San Francisco Thrift Town – it was so well organized, and easy to get my wheelchair up and down the aisles. A special thanks to the very helpful staff who made me feel like a VIP. ~ Lisa M., Texas.
Other benefits of joining Thrift Town's free VIP program besides being automatically entered to win their quarterly appreciation giveaways, includes exclusive savings coupons, newsletters, and sales alerts conveniently delivered right to your inbox. Thrift Town also hosts and awards prizes for quarterly and seasonal promotions that encourage customer and community participation such as their What a Find, Prom Attire, Halloween, and Ugly Holiday Sweater contests. To become a Thrift Town VIP, please visit http://www.thrifttown.com and submit your information online.
In addition to treating their customers like VIP's, Thrift Town lives it's vision statement of being committed to making a difference every day, and has raised over $250,000,000 for their charity partners, and keeps more than 16 million pounds of products out of local area landfills annually. Thrift Town's clean, bright, and organized stores put out 4,000 new products daily, setting them apart in the thrift world as the premier thrift destination. Thrift Town is owned and operated by Norquist Salvage Corporation, which has spend nearly four decades dedicated to socially responsible recycling.
###