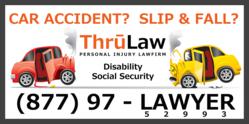 Thousand Oaks, CA (PRWEB) March 27, 2013
ThruLaw (http://www.thrulaw.com) is a personal injury law firm that is dedicated to serving the community and supports young boys and girls to be leaders of tomorrow. The firm, with two offices in California, believes in giving back to the community in the form of its 'Hometown Hereos' campaign and also its sponsorships of little league baseball teams throughout the golden state. ThruLaw is a proud 2013 sponsor of the Thousand Oaks Little League.
Thousand Oaks Little League is a youth sports focusing on baseball programs. The League encourages youth from ages 4 to 18 both boys and girls and trains them for different seasons and games. The League provides the foundation to the youth to make them outstanding sports person in real life. More information about the Thousand Oaks Little League can be found on their website: http://www.eteamz.com/thousandoakslittleleague/
Attorneys at ThruLaw have the reputation of vigorously pursuing the rights of their clients in all forms of personal injury matters, including car accidents, auto accidents and slip and falls. No matter the complexity the case brings, their personal injury lawyers have the necessary enthusiasm to achieve the best results for their clients. ThruLaw has two offices in California, one in Century City serving Southern California and another one in Menlo Park, serving Northern California. The lawyers are well versed in investigation, discovery, pre-litigation and trial.