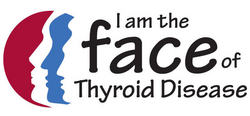 "I Am the Face of Thyroid Disease is designed to shine a spotlight on the diversity of thyroid patients and their practitioners, and help overcome the stigma and silence surrounding thyroid disease." -- Mary Shomon
Kensington, MD (PRWEB) January 13, 2011
Could you have a thyroid problem? This is a question that millions of Americans should be asking themselves. But worn out and inaccurate stereotypes about thyroid disease -- "skinny people can't have a thyroid problem," "thyroid problems only affect women," "only old people get thyroid conditions," "if you have a thyroid problem, your eyes will bulge," and so on -- are getting in the way of diagnosis and treatment.
Some experts estimate that as many as 59 million Americans have thyroid problems, and the majority of these thyroid sufferers remain undiagnosed and untreated, in part because patients and their doctors are unaware of the many different risk factors, signs and symptoms of a thyroid condition.
Since January is Thyroid Awareness Month, the nation's leading thyroid patient advocates, Mary Shomon, a New York Times best-selling author and advocate, and Katie Schwartz, founder of the DearThyroid.org website and comedy writer, have joined forces to create a new campaign, called "I Am the Face of Thyroid Disease." The campaign features video messages and photos from thyroid patients, practitioners and other members of the global thyroid community posted at the site http://www.iamthefaceofthyroiddisease.org.
Says Shomon: "I Am the Face of Thyroid Disease is designed to shine a spotlight on the diversity of thyroid patients and their practitioners, and help overcome the stigma and silence surrounding thyroid disease."
Says Schwartz: "Membership in the Jacked Thyroid Club does not have its benefits. Misconceptions about thyroid diseases and thyroid cancers are more rampant than hash tags on Twitter. 'I Am the Face of Thyroid Disease' empowers patients to come out of the healthcare closet, and express how challenging life in the Gland Canyon really is. In addition, families, practitioners and friends of the 'gland that can', are encouraged to share their video stories.
Shomon and Schwartz put together the "I Am the Face of Thyroid Disease" campaign to coincide with January 2011's Thyroid Awareness Month. The campaign is launching with videos from nationally-known physicians and authors including Erika Schwartz, MD, Jacob Teitelbaum, MD, Jeffrey Dach, MD, Ken Woliner, MD, prominent UK physician Gordon Skinner, MD, television comedy writer and comedian, and thyroid patient Betsy Salkind, as well as Shomon, Schwartz, and many others. The site also features a free downloadable 50-page ebook, "Thyroid 101: A Guide" designed to help educate and empower people with thyroid information.
The "I Am the Face of Thyroid Disease" campaign is also supported by the Coalition for Better Thyroid Care, a non-profit organization co-founded by Mary Shomon and Executive Director Geri Rybacki. The Coalition's mission is to promote knowledge, understanding, acceptance, availability and use of the full range of thyroid tests and treatment options by healthcare providers.
About the Thyroid
The thyroid may be only a small butterfly-shaped gland located in the neck, but the hormones it produces are essential; they deliver oxygen and energy to every cell in the body.
The most common thyroid problem is insufficient thyroid hormone, known as hypothyroidism, "low thyroid" or an underactive thyroid. Hypothyroidism causes metabolism to slow down, and can result in fatigue, depression, weight gain, hair loss, infertility, low sex drive, memory and concentration problems, and a host of other symptoms.
Sometimes, the thyroid can go into overdrive, and produce too much thyroid hormone, a condition known as hyperthyroidism, or an overactive thyroid. When too much thyroid hormone floods the body, it's common for heart rate and blood pressure to go up, and an overactive thyroid can cause anxiety, tremors, panic attacks, diarrhea, muscle weakness, eye problems, insomnia, and rapid, debilitating weight loss.
The thyroid can also get enlarged (known as a goiter), develop lumps (known as nodules), and in rare cases, those lumps can be cancerous. Thyroid cancer is, unfortunately, one of the fastest growing cancers in the United States.
"Thyroid 101: A Guide" is a free ebook available from the I Am the Face of Thyroid Disease campaign. The ebook explains more about the thyroid and its function, and looks at common thyroid diseases and conditions, including hypothyroidism (underactive thyroid), hyperthyroidism (an overactive thyroid), autoimmune thyroid disease, goiter/enlargement, nodules/lumps, thyroiditis, and thyroid cancer. The ebook features a detailed list of risk factors, signs and symptoms of thyroid disease, along with information thyroid blood tests, diagnosis and treatment. Finally, links to key thyroid-related websites, and resources to help stay informed, are included. This free ebook is available at http://www.iamthefaceofthyroiddisease.org
About Mary Shomon
Mary Shomon is a leading thyroid patient advocate, and author of 10 popular books on health, including the New York Times best-selling "The Thyroid Diet: Manage Your Metabolism for Lasting Weight Loss." Her other books include "The Menopause Thyroid Solution: Overcome Menopause by Solving Your Hidden Thyroid Problem," "The Thyroid Hormone Breakthrough: Overcoming Sexual and Hormonal Problems at Every Age," "Living Well With Hypothyroidism: What Your Doctor Doesn't Tell You...That You Need to Know," "The Thyroid Guide to Hair Loss," "Living Well With Graves' Disease and Hyperthyroidism," "Living Well With Autoimmune Disease," and "Living Well With Chronic Fatigue Syndrome and Fibromyalgia." Shomon is founder and editor of a popular thyroid website, http://www.Thyroid-Info.com and edits an email and print newsletter and magazine for thyroid patients, "Sticking Out Our Necks: Thyroid Report." Since 1997, Shomon has also served as the About.com Guide to Thyroid Disease at http://thyroid.about.com. About.com is a New York Times Company. Mary is on Facebook at http://www.facebook.com/thyroidsupport and Twitter at http://www.twitter.com/thyroidmary .
About Katie Schwartz
Katie is a comedy writer and essayist. Her essays and work have been featured in Ostrich Ink, Monkeybicycle, Dirty Humor Issue #5, Farmhouse, Opium, Girlistic, Tastes like Chicken and 6S, among others. Her essays have also debuted at Comedy Central's Sit-n-Spin. You can read her daily rants about life, love, or lack thereof and social commentary at her website, http://www.KatieSchwartz.com. Katie is also a freelance health writer for the Examiner and LIVESTRONG.
Ravaged, not in an, Oh, please don't stop kind of way, by Graves' disease and Graves' Opthalmopathy; she is an inductee in the Jacked Thyroid Club.
Katie gave birth to Dear Thyroid after recalling the many hate letters she penned at the too-many-to-cite heights of her illness, hoping other patients might find it as cathartic as she did and still does. Dear Thyroid has flourished into a renowned thyroid support community for patients and families. Dear Thyroid is online at http://dearthyroid.org and on Facebook at http://facebook.com/dearthyroid and Katie is active on Twitter at http://www.twitter.com/dearthyroid
###