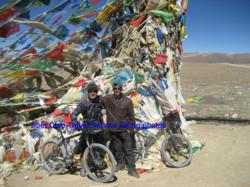 See Tibet on bicycle
(PRWEB) March 17, 2013
A biking tour of Tibet will test biker's strength and endurance as they make the journey from Lhasa to Kathmandu. Tibet Ctrip Travel Service-TCTS, a Lhasa based Tibet travel agency, now makes this journey possible through a combined new effort of experienced Tibetan guides, drivers, and camping support staff. Bikers will fly into Lhasa and spend a few days acclimatizing and sightseeing before setting off on the adventure. Along the way TCTS arranges comfortable accommodations in hotels and guesthouses; all camping equipment will be provided on portions of the new flexible itinerary where it is necessary to camp. Those who choose to bike Tibet will be rewarded with views of stunning scenery, opportunities to learn about Tibetan culture, and window into every day Tibetan life.
The tour begins in Lhasa where travelers will be given time to acclimatize to the altitude. After a group's native Tibetan guide picks them up from the airport, bikers are advised to rest, relax, and drink lots of water. Over these first few days it is important that bikers acclimatize properly in preparation for the journey ahead. In Lhasa, bikers will have a chance to orient themselves with Tibetan culture as they visit Potala Palace, Jokhang Temple, along with Sera and Drepung Monasteries. Travelers looking for a more in depth cultural experience can also visit Norbulingka, summer palace of the Dalai Lama, and ask their guide where they can try authentic Tibetan foods like Momo and Tibetan Noodle.
After acclimatizing, the adventure begins! Riding a bike is a unique way to travel Tibet; bikers have more time to appreciate the scenery than those riding in a vehicle and cover more ground than those on a trekking tour. The tour passes Lake Yamdrok and makes stops in Gyantse and Shigatse to visit places like Kumbum Pagoda and Tashilhunpo Monastery. After several days of biking the group will reach Rongbuk Monastery, the highest monastery in the world. They will camp overnight here and wake early the next day to catch views of Mt. Everest! After visiting Everest, it's another few days to Tibet's border with Nepal. Here bikers will meet their Nepali guide who will accompany them on the ride to Kathmandu.
On this epic mountain bike Tibet tour bikers will pass through Tibetan towns and villages, giving them a window into Tibetan life that most tourists miss out on. TCTS allows for a flexible itinerary so bikers can move at their own pace, a support vehicle follows the group in case anybody needs a break from peddling. For traveler's convenience, bike rental can be arranged and camping support staff will prepare meals and snacks on the biking route. Based on TCTS experience, April-Mid May and August-October are the best times to undertake this journey. With availability filling up quickly, bikers are encouraged to begin planning their adventure soon.
Devin Moore provided this new release above. Devin is a travel writer and independent economic analyst based in Springfield, Missouri USA. In partnership with local Tibetan travel agency TCTS (tibetctrip.com), Devin Moore works to spread awareness of Tibet and its people through publishing Tibet travel information.