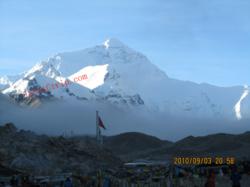 Welcome to select one Tibet budget tour with Lhasa based local Tibet travel agency.
(PRWEB) March 12, 2013
Travelers looking for a Tibet budget tour often feel that they are faced with limited options. Tibet Ctrip Travel Service-TCTS, (tibetctrip.com) has been working to open up new Tibet travel opportunities for travelers looking to cut costs without sacrificing quality. Instead of packing travel groups on a crowded bus with 20-30 other people, TCTS lowers the cost per person by matching small travel groups with other small travel groups that have similar travel interests and itineraries. Some of the most popular itineraries for budget Tibet tours include:
Everest Base Camp Tour: After spending time in Lhasa sightseeing and acclimatizing to the altitude travelers will head towards Mt. Everest. Along the way, the tour stops in Gyantse and Shigatse where travelers will see famous cultural sites like Kumbum Pagoda and Tashilhunpo Monastery. Once travelers reach Everest Base Camp they can rest, relax and enjoy views of the mountain before heading back to Lhasa!
Lhasa Culture Tour: Tibet travel groups will spend 4-5 days learning about Tibetan culture and history as they enjoy a sigh seeing tour in and around Lhasa. Travelers can choose from a variety of itineraries that include places like Potala Palace, Jokhang Temple, and Barkhor Bazaar. On the outskirts of Lhasa the tour makes visits Drepung Monastery, which was once one of the largest monasteries in the world, and Sera Monastery, where travelers can see the famous debating monks.
Mt. Kailash Pilgrimage: This itinerary is great for those travelers looking for an in-depth cultural experience mixed with Tibet's fantastic natural beauty. Kailash is a pilgrimage site for Hindus, Tibetan Buddhists, and Bon; every year, thousands make the journey to pay homage to the mountain and purify their souls. Travelers will join in the three-day trek around the base of the mountain where they can engage with pilgrims and learn about a variety of different cultures!
By matching small travel groups with other small travel groups, TCTS is able to help cut the per person cost of many of its unforgettable tours of Tibet! Travelers will be able to avoid the hassles of large group tours and enjoy more one on one time with their native Tibetan guide, allowing travelers more opportunities to learn about Tibetan culture and history. With the Tibet travel season rapidly approaching, TCTS advises travelers to plan ahead and welcomes any questions about these or any other its Tibet budget tour itineraries!
Devin Moore provided this new release above. Devin is a travel writer and independent economic analyst based in Springfield, Missouri USA. In partnership with local Tibetan travel agency TCTS (tibetctrip.com), Devin Moore works to spread awareness of Tibet and its people through publishing Tibet travel information.