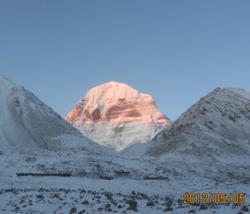 Tibet Kailash Pilgrimage together with Mt. Everest Highlight attraction in just 17 days!
(PRWEB) March 10, 2013
Tibet Ctrip Travel Service-TCTS has announced a new 17 day Tibet travel adventure! Travelers planning to head to Mt. Kailash during the 2013 Tibet travel season can now add a stop at Mt. Everest to their itinerary. As many Tibet travelers know, Mt. Kailash is one of the most sacred places on earth. Tibetan Buddhists and Hindus revere the trek around its base as a pilgrimage that purifies one's soul. Now with TCTS, travelers looking for a more in depth Tibet travel experience can make the holy pilgrimage while taking time to witness the magnificence of the world's tallest mountain.
→ Once travelers arrive in Lhasa, they will have a few days to relax and acclimatize to the altitude. Here, the travel group's native Tibetan guide will accompany them to famous Tibet attractions such as Jokhang Temple, Sera and Drepung Monasteries, along with Potala Palace. Over the first few days, travelers will have the opportunity to become oriented with Tibetan culture as their guide explains the cultural and historical significance of the places they visit.
→ After a few days of sightseeing in Lhasa the travel group will head out for Mt. Everest, making stops in Gyantse and Shigatse to see important cultural sites like Kumbum Pagoda and Tashilhunpo Monastery (seat of the Panchen Lama). Travelers needing additional time to acclimatize to the altitude will make an overnight stop in Shegar and head for Everest Base Camp in the early morning hours. Those who have experience at higher altitudes can opt to stay in the tent camp near Everest base camp.
→ The Tibet tour group will head for Mt. Kailash after visiting Everest. After two or three days drive, travelers will reach the Lake Manasarovar where they will spend the night and have lots of opportunities for taking pictures of the lake and surrounding mountain scenery. The trek begins the following day in Darchen and takes about three days to complete. Travelers will be able to see pilgrims from all over Tibet, Nepal, and India as they complete the ritualistic trek around the base of Mt. Kailash.
→This 17-day tour of Tibet gives travelers the opportunity to connect with nature and learn about Tibetan culture at famous historical and cultural sites. After completing the trek around the base of Mt. Kailash, travel groups can return to Lhasa or make the overland adventure to Kathmandu. TCTS provides all camping gear necessary to support the trek around Kailash and a yak person will be hired so travelers don't have to carry heavy packs. With the travel season rapidly approaching travelers are advised to plan ahead, TCTS welcomes any questions travelers may have.
→Devin Moore, wrote this new release on behalf of TCTS. Devin is a travel writer and independent economic analyst based in Springfield, Missouri USA. Devin enjoys travelling throughout Asia and his economic research is currently focused on airfare pricing. In partnership with local Tibet travel agency TCTS (tibetctrip.com), Devin publishes this new information in order to spread awareness of Tibet and its people.