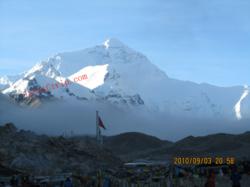 Local Tibet travel agency www.tibetctrip.com announced a new budget Everest tour to Nepal.
Lhasa, Tibet (PRWEB) April 16, 2013
Travelers looking for Tibet budget tours no longer have to settle for crowded tour buses! Tibet Ctrip Travel Service introduces newly enhanced budget tours without the hassles of a large group and tight schedule. TCTS (http://www.tibetctrip.com),a Lhasa based tour company has been working to open up new Tibet travel opportunities for travelers looking to cut costs without sacrificing quality. And here is one of the budget tour programs from Lhasa to Nepal with Everest highlight attraction inclusive.
Eight-day Tibet Everest Nepal Tour: After spending time in Lhasa sightseeing and acclimatizing to the altitude, travelers will head towards Mt. Everest. Along the way, the tour stops in Gyantse and Shigatse where travelers will see famous cultural sites like Kumbum Pagoda and Tashilhunpo Monastery. Once travelers reach Everest Base Camp they can rest, relax and enjoy views of the mountain before heading to the border town of Zhangmu, which is a gateway between Nepal and China.
"This Tibet overland tour is one of the most popular adventure tours in the world even through it was closed to foreign tourists last year, but now it is opened again and travelers can travel from Nepal to Tibet or vice versa by overland," the marketing manager Tony from TCTS said.
"Mt. Everest, one of top Tibet attractions, draws tens of thousands of travelers every year. While some travelers may get serious mountain sickness before getting to Everest Base Camp even though a few travelers can get used to the high altitude well." TCTS's travel designer Tony previously said, "We need to have a better itinerary with not so tight schedule to make most travelers feel comfortable before ascending to Rongphu Monastery and Mt. Everest base camp. Our tour group will have one night stop in Shigatse city, one night stop in Shegar town and then almost all travelers can get well acclimatized because they travel slowly to Everest base camp."
TCTS's Budget Tibet Tours Service features:

100% money back guarantee if travelers fail to join one of the departures;
100% small group size tour (mostly no more than 8 pax in one tour group) to maintain service quality and avoid mass tourism;
100% using Tibetan local tour guides;
Reasonable and responsible itinerary with consideration on every single traveler (health issue, high altitude, road condition, driving distance, weather, etc);
Instant support before, during and after the trip;
Absolutely no forced shopping or tourist trap;
Definitely NO Hidden Cost;
5 or 15 $ per person as donation to local Tibetan orphanage already inclusive in the offer (depends on different route);
100% friendly to local environment by practicing the knowledge of Responsible Tibet Tourism.