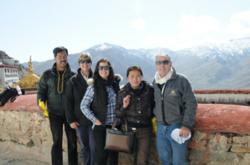 Have a wonderful Tibet tour with your family!
(PRWEB) March 24, 2013
Tibet Ctrip Travel Service-TCTS, a Lhasa-based Tibet travel agency, has been working to make Tibet tour more accessible to families. TCTS has several years of experience working with traveling families and understands their need for flexible tour schedule on a budget that lets them relax while travel staffs take care of all the details. TCTS announced a new seven-day family Tibet tour program to see Namtso and Shigatse along with Lhasa attractions such as Potala Palace, Jokhang Temple, and Barkhor Bazaar and so on.
This family Tibet tour begins in Lhasa; a local Tibetan tour guide will pick families up from the airport or Lhasa railway station and accompany them to their hotel. It is recommended that travelers rest, relax, and drink lots of water to help acclimatize to the altitude. Over the next couple of days, families will enjoy a sightseeing tour. Lhasa is home to many of Tibet's most famous cultural and historical sites, some of the must-see Tibet attractions include: Potala Palace, Sera and Drepung Monasteries, Jokhang Temple, and Barkhor Bazaar. Even those on a tight schedule will find that just a few days exploring Lhasa allows for many opportunities to learn about Tibetan culture and see Tibetan daily life!
Here is the Tibet family tour program:
Day 1: Arrive in Lhasa. Tibetan travel guide and driver will meet family tour group at the airport or station and transfer them to their hotel. It's best to rest, relax, and drink lots of water today. Care should be taken not to over exert ones self.
Day 2: Today groups will really begin to experience culture on tour. They will have an easy day of walking while visiting Jokhang temple and Barkhor Bazaar. In the afternoon, it will be time to see the debating monks at Sera Monastery. Over the past centuries, Sera Monastery has become famous as a place for Buddhist scholarly learning.
Day 3: Now that travelers will have acclimatized to the altitude a bit more, today they will climb about 364 steps up into Potala Palace to witness breath taking views of Lhasa and the surrounding mountain scenery. Inside, some of Tibet's most important cultural treasures await visitors. This is the highlight of travel to Tibet for many. After eating lunch, travelers will see Drepung Monastery, once the world's largest monastery, it has housed up to ten thousand monks.
Day 4: Today is a great day for witnessing Tibet's natural beauty. Mountains, grasslands, and the holy Nam-tso (tso is lake in Tibetan) are on order for today. After the long distance journey, family can have chance to enjoy the Yangpachen Hot Spring if they like.
Day 5: Lake Yamdrok, the resting place of early Dalai Lamas, and the town of Gyantse are the destinations. In Gyantse, Pelkhor Monastery provides insights into Tibetan Buddhism and Kumbum Pagoda is a multi level work of art. As is tradition, travelers circle around each level of the pagoda clockwise stopping in each numerous rooms that contain magnificent paintings and sculptures of Tibetan Buddhist gods. Most would agree that this is a Tibet travel experience that will not soon be forgotten. After, the group will spend the night in the nearby city of Shigatse.
Besides some light walking in Lhasa all travel is done in a private vehicle driven by a Tibetan driver. Tibet Ctrip Travel Service-TCTS can accommodate groups of all sizes, making a memorable family tour in Tibet easy and enjoyable.
Day 6: After having breakfast in hotel, Tibetan tour guide and driver will take family tourists to explore the sprawling Tashilhunpo Monastery, seat of the Panchen Lama. They could spend about 2 hours here and then return to hotel to have short rest. After lunch, tour group will leave Shigatse for Lhasa long the central China-Nepal Friendship Highway. The 280 km safe driving takes about 5-6 hours time. Family tour group can have flexible stop on the way where they like to have a rest or take photos.
Day 7: Leave Lhasa for the airport and fly onward to the group's next destination. Travelers can extend the family tour of Tibet, China and Nepal with TCTS.
Tibet Travel Service-TCTS family tour service features:
1) Tibet Family tour programs suit families of all ages and types;
2) packed with a wide variety of enriching activities;
3) Service with First Aid;
4) Experienced local Tibetan tour guide with deep knowledge;
5) Flexibility: relax anytime & anywhere;
6) Customization: your schedule, budget & preferences;
7) All-inclusive: hotel, sightseeing, guide, transfer;
8) All fun, no fuss;
9) Reasonable prices for add-on trips assistance in China and Nepal.