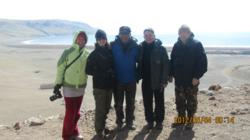 Tibet Kailash Trekking and pilgrimage adventure with local travel agent
(PRWEB) March 11, 2013
With the Tibet trekking season right around the corner, Tibet Ctrip Travel Service (http://www.tibetctrip.com) - TCTS is helping educate travelers about the different trekking options Tibet has to offer. Most recently, Tibet Ctrip released newly updated information about its Mt. Kailash trek. The trek around the base of Mt. Kailash is a sacred pilgrimage for Hindus, Tibetan Buddhists, and followers of the Bon religion. While taking in unparalleled mountain scenery, travelers will have the opportunity to meet pilgrims and learn about a variety of different cultures. A few interesting facts about travel to Mt. Kailash address common questions and concerns:
→The Tibet trek will begin in the village of Darchen, which sits at about 4600 m (15,000 ft). The highest point on the trek is at around 5500 m (18,000 ft) at Drolma Pass. Mt. Kailash's peak is just over 6600 m (21,000 ft). TCTS provides camping gear such as tents, sleeping bags, and cooking gear. A yak person will be hired to carry equipment, although travelers are encouraged to carry a backpack filled with items that may be needed throughout the day.
→In order to avoid altitude sickness, travelers will spend a few days sightseeing in Lhasa before beginning the drive to Mt. Kailash. During this time it is best to spend time resting and not engage in intense physical activity. Throughout the Tibet tour, it is important for travelers to drink as much water as possible.
→The drive to Mt. Kailash takes about 4-5 days; this allows plenty of time for sightseeing. There will be stops in Gyantse, Shigatse, Lhatse, and at Lake Manasarovar. At these stops, travelers will visit places like Tashilhunpo Monastery, Kumbum Pagoda and Sakya Monastery. Accommodation along the way ranges from standard tourists hotels to guesthouses ran by local Tibetans.
→The Mt Kailash trek is perfect for travelers who want to see remote regions of Tibet with out missing out on opportunities to learn about local culture. The adventure to and from Mt. Kailash provides numerous opportunities for visiting monasteries and temples while the trek around its base allows trekkers to experience a ritual that has been practiced by pilgrims for thousands of years. TCTS is happy to answer traveler's specific questions and looks forward to helping plan adventures for the upcoming Tibet travel season.
→Devin Moore, wrote this new release on behalf of TCTS. Devin is a travel writer and independent economic analyst based in Springfield, Missouri USA. Devin enjoys travelling throughout Asia and his economic research is currently focused on airfare pricing. In partnership with local Tibet tour agency TCTS (tibetctrip.com), Devin publishes this new information in order to spread awareness of Tibet and its people.