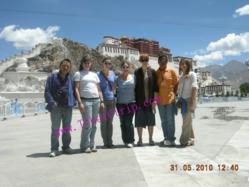 Budget students' travel in Tibet with local Tibet travel agency
(PRWEB) March 15, 2013
Tibet travel is a great way for students to take a break from studying while gaining global perspective that sets them apart from their peers. Tibet Ctrip Travel Service-TCTS, a Lhasa based Tibet travel agency, has experience working with student travelers and seeks to provide them with an experience where they can learn about Tibetan culture and take time to connect with Tibet's natural beauty. To minimize travel costs, without sacrificing quality, TCTS is happy to match students traveling in small groups with other small groups of similar travel interests. Tibet Ctrip's newest student tours include:
6-Day Tibet Culture and Buddhism Tour: Travel groups will begin their Tibet tour in Lhasa where they will become oriented with Tibetan culture. Their native Tibetan guide will accompany them to places like Potala Palace, Jokhang Temple, along with Sera and Drepung Monasteries. Visiting these places will also give insights into Tibetan Buddhism and how it has played a role in Tibet's history. After travelers have acclimatized to the altitude they will head for Yarlung Valley, cradle of Tibetan civilization. Here the tour visits Yumbulagang Palace (at over 2000 years old it was the first palace in Tibet) and Tramdruk Monastery, one of Tibet's oldest and greatest temples.
7-Day Everest Base Camp Tour: The tour of Tibet beings in Lhasa where students can spend a few days resting and acclimatizing to the altitude while enjoying a sightseeing tour of important historical and cultural sites. After becoming acclimatized and oriented with Tibetan culture, travelers will head for Everest Base Camp! Over the two-day drive, the tour makes several stops. The first is at Lake Yamdrok, a vast alpine lake that shines a deep blue, then at Gyantse to explore Pelkhor Monastery and see the breath taking Tibetan Buddhist paintings of Kumbum Pagoda. The group will stay overnight in Shigatse where they will see Tashilhunpo Monastery and have the opportunity to shop for souvenirs at the Tibetan market. Travelers will arrive at Everest in the afternoon and stay overnight for more views of Everest the following morning.
Travel opportunities that provide a chance to engage with people of other cultures and learn about the Earth's natural heritage is an important part of gaining a global perspective. Travel to Tibet is filled with opportunities to witness magnificent scenery, learn about the region's history, and gain insight into every day life in Tibet. Student travel groups can cut costs and make friends with travelers from all over the world by being matched with another travel group of similar interests! The Tibet travel season is rapidly approaching, to get the most out of their Tibet travel experience; travelers are advised to plan in advance!
Devin Moore wrote this new release on behalf of TCTS. Devin is a travel writer and independent economic analyst based in Springfield, Missouri USA. In partnership with local Tibet travel agency TCTS (http://www.tibetctrip.com), Devin Moore works to spread awareness of Tibet and its people through publishing Tibet travel information.