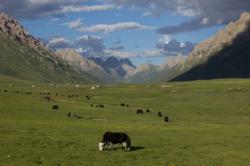 (PRWEB) May 19, 2012
Explore Tibet, a Lhasa-based Tibet tour agency committed to responsible tourism and Tibet permits, signed the Zeitz Foundation charter to support sustainable business practices.
"The Zeitz Foundation promotes sustainable and environmentally responsible practices for organizations and businesses," Explore Tibet said. "We've signed their Long Run Charter to support their goals and promise to work for the same ones."
The Zeitz Foundation for Intercultural Ecosphere Safety is a non-profit organization that focuses on what it calls the 4 C's: conservation, community, culture, and commerce.
According to the foundation, their goal is to, "maintain or improve the integrity of ecosystems through effective, sustainable management practices that ensure ecosystems continue to deliver services—such as clean water—for the benefit of mankind."
The foundation's flagship program, called The Long Run, reaches out to businesses in environmentally-sensitive areas, especially tourism businesses. Explore Tibet, already committed to sustainable tourism, agreed to partner with the company to develop and promote sustainable tourism practices.
"We talk to our clients about how to minimize waste when they're traveling, and we practice 'leave no trace' kailash trekking," Explore Tibet said. "We recently started giving our clients cloth bags to carry with them, to discourage the use of disposable plastic bags. We hope to inspire other travel companies to follow our example and develop their own green initiatives."
"The tourism industry in Tibet is growing, and with that comes the question of how we can help preserve the fragile environment. We want this beautiful place to be here for our children's children."