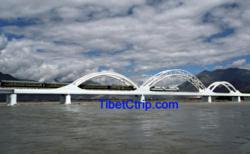 Train travel to Tibet is right or wrong? More research is needed.
(PRWEB) March 01, 2013
Tibet Ctrip Travel Service- TCTS (tibetctrip.com), a Lhasa based Tibet travel agency, enhances its Tibet travel culture tours by offering travelers the option to ride on the Qinghai Tibet Railway. Since its completion, the railway has become an increasingly popular Tibet travel option that offers stunning views of the Qinghai-Tibet Plateau. Those looking for in depth cultural experiences will love taking the train; it provides opportunities to meet people from all over Tibet and China! Tibetan and Chinese are among the friendliest of people and they will be just as excited to meet travelers on the train as travelers will be to meet them.
Once travel groups arrive in Tibet, their native Tibetan guide will be waiting at the train station to accompany them to their hotel. While the train does offer better acclimatization than arriving by air, travelers will still have undergone drastic altitude change in a short amount of time. Upon arrival, it's best to rest, relax, and drink lots of water in order to be ready for a Tibet tour full of sightseeing. Travelers will spend time in Lhasa acclimatizing while they learn about Tibetan culture at famous sites such as Jokhang Temple, Sera Monastery, Drepung Monastery, and Tibet's top must-see attraction Potala Palace.
Once travelers acclimatize, they will leave Lhasa. Those looking to engage with and learn about Tibetan culture want to visit places like Yarlung Valley (cradle of Tibetan civilization), Shigatse, Yangtse, and Guge Kingdom. TCTS allows for flexible scheduling so travelers will have plenty of opportunities to stop for pictures on their journey through Tibet. While the train passes allows passengers to see a large cross section of Tibet quickly, an overland journey visiting monasteries and temples will help give travelers the complete experience they are looking for.
Due to high passenger volumes on the train, travelers must be aware that tickets cannot always be guaranteed for specific dates. Unlike making travel reservations in many western nations, tickets are available only two weeks in advance. No travel agency can absolutely guarantee tickets; this inevitably introduces a degree of risk into planning Tibet travel involving a train trip. To minimize risk, travelers will need to be flexible and may want to consider departing Tibet by train and arriving by air. TCTS wishes to avoid confronting travelers with last minute hassles by being completely up-front about this.
A train trip to or from Tibet is the crown jewel of any cultural tour of Tibet! Riding the train gives travelers opportunities to interact with local Tibetan and Chinese people that they may not otherwise have. This, coupled with the magnificent scenery and opportunities to learn about Tibetan culture, creates a rewarding travel experience that gives travelers insight into the diversity of people that live in Tibet and China. Travelers with questions about the Qinghai-Tibet Railway Travel are welcome to contact TCTS.
Devin Moore (devinkmoore.com), author of this release, is a travel writer and independent economic analyst based in Springfield, Missouri USA. Devin enjoys travelling throughout Asia and his economic research is currently focused on airfare pricing. In partnership with local Tibetan travel agent TCTS (tibetctrip.com), Devin publishes Tibet travel related information in order to spread awareness of Tibet and its people.