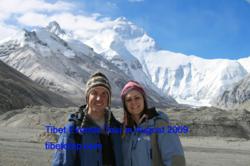 Get Tibet Travel Advices before Tibet Travel Decision
Tibet (PRWEB) March 04, 2013
Tibet Ctrip Travel Service-TCTS (tibetctrip.com), Lhasa based Tibet tour agency, has published newly updated Tibet travel tips to help travelers plan their trip. Travelers who have minimal experience traveling in Asia or have never traveled overseas at all can find it difficult to plan a trip from halfway around the world. Through years of experience, TCTS is able to answer common Tibet travel questions and address tourists concerns.
→Tibet Travel Permits
Foreign visitors need a permit to travel in Tibet. Applications for Tibet entry permits and other related documents can only be processed through Tibet Tourism Bureau and other related government agencies. Only licensed Tibet travel agencies can apply for permits. Along with the application, they are required to submit documents such as copies of tourists' passports and/or Chinese visas. For travel to specific regions such as Mt. Everest Base Camp, Mt. Kailash or eastern Tibet, additional military permits may be necessary. TCTS will keep tourists up to date on specific information.
→Suitable Clothing
When deciding what to pack, layering is the way to go. This is especially true for travelers who will be trekking or biking. Mornings and evenings can be very cold, but warm up as the day wears on. To remain comfortable, travelers are advised to bring clothes that can be easily removed and carried in a daypack. Also, appropriate shoes are of the utmost importance. For a sightseeing tour comfortable walking shoes are important, for a trek it is imperative that travelers ware comfortable hiking shoes.
→ How to choose a Tibet travel destination
The top recommended Tibet tour destinations are Lhasa, Damxung, and Tsetang, center Tibet, west Tibet and Nyingchi-eastern Tibet. These region feature some of the most famous Tibet attractions. Some of the most well known include Potala Palace, Jokhang Temple, Sera and Drepung Monasteries, Yarlung Valley, and Mt. Everest. Also there are off the beaten path destinations such as Drak Yerpa and Chimpu Hermitage, Samding Monastery, Sakya Monastery, Pabongka Monastery, and Shalu Monastery. In less travelled areas like these, tourists can enjoy hiking and stunning views of the valleys, mountains, and nearby farmland.
→ Tibet travel shopping
Tibet is a "Cultural Shopping Paradise". There are plenty of opportunities to shop while engaging with the rich Tibetan culture and local life. Some of the most famous local products are Tibetan carpet and Textiles, Tibetan Thangka, Tibetan medicine and other unique items such as wooden bowls, jewelry, jade, prayer wheels, knives, local boots and beads. TCTS encourages travelers to shop responsibly by doing business with Tibetan souvenir shops. Many Tibetans depend on money from tourism and this is, by far, the best way to give back to the Tibetan community.
→ Tipping while on tour in Tibet
Usually, travel service staffs such as Tibet tour guides, drivers, hotel staff, and porters expect to be tipped; this is especially true if they have worked very hard to provide tourists with the best service possible. While cash is very much appreciated, the great part about tipping in Tibet is that small gifts from traveler's own country are equally appreciated. This can include a wide variety of items such as music CDs, perfumes/colognes, hats or t-shirts. Many items with brand name labels that are common in the western world can be highly coveted items for local Tibetans. It is normal to wait until the end of the tour to tip the guide or driver.
Tibet travel is certain to be a unique and unforgettable experience. With its fascinating culture and diverse geography there is seldom a dull moment. Whether a travel group is looking to witness some of Earth's most incredible high altitude wonders or just looking to learn about Tibetan Buddhism and culture, there is something for everyone. For the best possible experience it is advisable to contact a reliable Lhasa based Tibet travel agency that employs native Tibetan guides and supports safe and responsible travel practices.