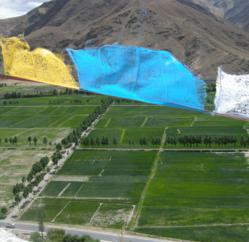 There are so many Tibet Tourist Attractions. What shall I choose to visit in Tibet?
(PRWEB) March 05, 2013
With so many famous Tibet travel destinations to choose from, travelers can find it hard to plan a tour. To help visitors plan their trip, Tibet Ctrip Travel Service-TCTS, has released new information about some of Tibet's most popular destinations. Tibet is a gigantic highland with varied landscapes and numerous world-famous cultural sites. Whether travelers are looking to get in touch with the natural side of Tibet, wanting to learn about Tibetan culture or somewhere in between, there is something for everyone in Tibet.
Lhasa and the surrounding area: Travelers wanting a culture-focused tour need look no further than Lhasa! Some of the top Tibet attractions include Potala Palace, former home of the Dalai Lama, and Jokhang Temple, an important site for Tibetan Buddhist Pilgrims. Another Lhasa must-see is Barkhor Bazaar, this hustling and bustling area of narrow streets provides opportunities to bargain for Tibetan goods and see every day Tibetan life. On the outskirts of Lhasa travelers can visit Ganden and Sera Monasteries.
Tsetang: This city's history is rooted in the ancient past. It lies in Yarlung Valley, cradle of Tibetan civilization. Legend has it that Tibetan people originated from here thousands of years ago. It is here where Tibet's very first king ruled from Yungbulakang Palace, the first palace built in Tibet. It sits high atop a hill and provides travelers with the opportunity to hike to the top for astounding views of the valley and surrounding mountains. This is a great place for the culture-focused travelers who desire opportunities to see some of Tibet's natural scenery.
Nyingchi and East Tibet: This region is off the radar for most people who travel to Tibet! Travelers wanting a tour filled with breathtaking Tibetan scenery will want to consider adding this region to the itinerary. See towering mountains, alpine lakes, and Yarlung Zangbo Canyon, which is the world's deepest canyon!
There is a Tibet tour to fit every interest! TCTS works with travelers to plan an itinerary that fits their needs. Some of the areas mentioned are occasionally subject to travel restrictions and require extra travel permits beyond the normal Tibet travel permit; TCTS will keep travelers up to date. Lhasa, Tsetang, and Nyingchi are only a few possible stops on an unforgettable Tibet tour. With the travel season rapidly approaching, TCTS will be releasing more information about Tibet's top travel destinations!
Devin Moore, author of this release, is a travel writer and independent economic analyst based in Springfield, Missouri USA. Devin enjoys travelling throughout Asia and his economic research is currently focused on airfare pricing. In partnership with local Tibetan travel agent TCTS (tibetctrip.com), Devin publishes Tibet travel related information in order to spread awareness of Tibet and its people.