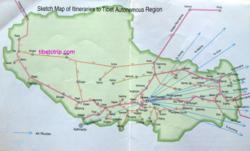 Tibet travel guide: Learn Geography and Location Map of Tibet before you travel to Tibet
(PRWEB) March 27, 2013
"Where is Tibet on the map?" is a question frequently asked by prospective Tibet travelers. "What is Tibet's geography and climate like?" is another frequently asked question. Tibet Ctrip Travel Service-TCTS has released new travel information to help travelers answer some of their very first and most basic Tibet travel questions. Travel to Tibet is actually much easier than most would be led to think: in recent years it has seen tourist infrastructure rapidly evolve to provide comfortable tourist hotels, access to cultural and historical sites, along with well paved roads that make transportation a breeze.
Many consider Tibet to be a part of central Asia while others consider it to be a part of East Asia. Separated from India, Nepal, and Bhutan by the towering Himalayas and from Tajikistan by the Kunlun mountain range, there is stunning scenery at every turn. The landscape is home to expansive alpine lakes, such as the Holy Lake Manasarovar, and is the source of major rivers that run throughout Asia. A Tibet tour provides fantastic opportunities to spend time admiring this unique scenery; some may choose to cover lots of ground on an overland tour while others choose to focus on getting in touch with a specific area on one of TCTS's many Tibet trekking tours.
The climate can vary widely depending on the location and time of year. For example, travelers looking to see Mt. Everest are best of visiting in early May or October while many parts of Central Tibet (Lhasa, Shigatse, Gyantse, etc) are generally hospitable year round. Regardless of the time of year, visitors need to prepare for chilly nighttime temperatures. Monsoon rains come in August, obscuring many mountain views, and bringing an increased risk of landslides along popular travel routes. Some areas of Tibet, such as the Mt. Kailash region, may even experience inhospitable weather throughout the whole entire year however travelers usually have the best luck scheduling trips to this area during May, June, July, September, and October.
Even though the weather can be harsh, careful preparation and an adventurous spirit can help keep it from getting in the way of an unforgettable Tibet travel experience. TCTS welcomes questions about what to expect and helps travelers plan their tour around the varied climate. Even in the face of harsh conditions, a quality tourist infrastructure makes it easy for travelers to see many of Tibet's most famous cultural and historical sites. With the prime time to embark on a tour of Tibet right around the corner, travelers are advised to start planning now.
Devin Moore provided this news release above on behalf of local Tibet travel agency TCTS (tibetctrip.com). Devin is a travel writer and independent economic analyst based in Springfield, Missouri USA. His economic research is currently focused on airfare pricing. Devin Moore works to spread awareness of Tibet and its people through publishing Tibet travel information.