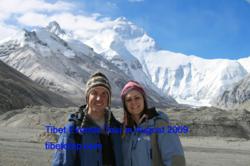 Mt. Everest is about 620 km to Lhasa as in Tibet travel maps and weather in August is suitable for Tibet Everest Adventure tour.
(PRWEB) March 02, 2013
Many people interested in a tour of Tibet often ask questions like: Where is Tibet on the map? What is its geography and climate like? To help prospective Tibet travelers answer these questions, Tibet Ctrip Travel Service-TCTS has released new travel information. Travel to Tibet is much easier than most would be led to think. In recent years, Tibet has seen its tourist infrastructure rapidly evolve, making it a much more accessible destination.
Tibet lies in the far southwest corner of China, directly north of India. Many consider it to be the eastern edge of Central Asia, while others consider it to be a part of East Asia. Tibet borders India, Nepal, Tajikistan, Burma and Bhutan. Looking at map of Tibet is the best way to learn about its location. The geography of Tibet is nothing short of spectacular; it features towering mountain ranges, the most famous being the Himalayas, alpine lakes, and the expansive Qinghai-Tibet plateau. The Himalayas separate Tibet from India, Nepal, and Bhutan. This range is the source of some of Asia's most important rivers including the Indus, Brahmaputra, Mekong, Yangtse, and Yellow. The Kunlun range in the far northwest separates Tibet from East Tajikistan while the Qilian Range to the north acts as a border between Tibet and the Gobi Desert of Xinjiang.
The climate in Tibet varies widely from location to location depending on the time of year. For visiting Mt. Everest, travelers will have the most luck seeing its face in early May and October. Monsoon rains come in the summer, and views of the mountain are usually obscured. Areas in central Tibet (such as Lhasa, Shigatse, and Gyantse) are generally hospitable year round, although travelers can expect cold temperatures in the winter. It's best to avoid August when monsoon rains are heaviest as landslides frequently occur. This is also true of Eastern and Northern Tibet. Mt. Kailash can be inhospitable throughout the year; however, the best times to visit are May, June, July, along with September and October.
While the weather can get harsh, proper preparation and an adventurous spirit can help mitigate its effects. TCTS is more than happy to help travelers plan around and prepare for Tibet's varied climate. With quality tourist infrastructure now in place, travelers can see Tibet's most famous sites with relative ease. Few other travel experiences compare with witnessing Tibet's spectacular scenery and learning about its unique culture. With the Tibet travel season rapidly approaching, travelers are advised to start planning now.
Devin Moore, author of this release, is a travel writer and independent economic analyst based in Springfield, Missouri USA. Devin enjoys travelling throughout Asia and his economic research is currently focused on airfare pricing. In partnership with local Tibetan travel agent TCTS (tibetctrip.com), Devin publishes Tibet travel related information in order to spread awareness of Tibet and its people. Get to know Devin with the link to devinkmoore.com.