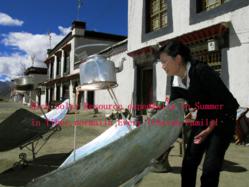 Know Tibet Lhasa weather forecast before we travel to Tibet.
(PRWEB) March 22, 2013
Travelers on a tour of Tibet will be surprised to find that the weather in Lhasa, Tibet's capital, is comfortable and hospitable year round. Although there can be drastic differences between day and evening time temperatures, compared with other regions of Tibet, Lhasa enjoys relatively fair weather year round! Even in the middle of winter, abundant sunshine can bring warm days. For many, Lhasa's deep blue sky, astounding architecture, and fascinating local culture is a travel dream; by planning for the weather travelers can help ensure a comfortable and unforgettable visit!
A visit to Lhasa is possible throughout most of the year. In general there are two seasons: wet and dry. The dry season takes place from October to May bringing windy conditions, little rain, and snow occurs only in the mountainous outskirts. While some popular Tibet travel destinations are inaccessible this time of year, travelers are able to visit Lhasa and explore many of its most important cultural and historical sites. Although the winter nights can be quite chilly, intense sunlight promotes warm daytime temperatures. The wet season runs from June through the end of September. Most rainfall in Lhasa occurs at night with clouds clearing off by morning, making March to the beginning of October an ideal time to visit Tibet.
During the wet season, daytime temperatures can climb to over 27 C (about 80 F) and plunge to freezing at night. Shorts may be comfortable during the day but long pants and jacket are likely to be necessary at night. Since most rainfall occurs at night, rain-gear is typically unnecessary for travelers who plan to remain in Lhasa and the surrounding area. Lhasa sits closer to the sun than many other travel destinations so sun glasses, sunscreen, and lip balm a must for those on a Tibet tour. While the weather in Lhasa is hospitable, it can change drastically throughout the day; travelers will need to pack clothes suitable for both warm and cool weather.
The allure of Lhasa's mountain scenery, rich cultural heritage, and fantastic architecture makes it a top destination for travel to Tibet. While the temperatures can be chilly during the winter and experience broad swings during the summer months, Lhasa experiences relatively fair weather. The weather is at its best from the end of March to the beginning of October, travelers visiting during the winter months will enjoy smaller crowds and more opportunities to see every day Tibetan life. No matter the time of year, Lhasa's weather is suitable for a visit!
Devin Moore provided this new release about Tibet weather on behalf of local Tibet tour agency TCTS (tibetctrip.com). Devin is a travel writer and independent economic analyst based in Springfield, Missouri USA. Devin Moore works to spread awareness of Tibet and its people through publishing Tibet travel information.