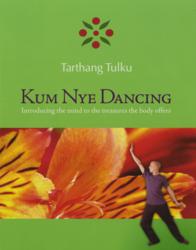 Berkeley, CA (PRWEB) June 01, 2012
Dharma Publishing is excited to announce the launching of Tarthang Tulku's new book, Kum Nye Dancing: Introducing Mind To The Treasures The Body Offers on Thursday, June 14, 2012 from 7:00 to 9:00 pm at the Dharma Publishing Bookstore.
Kum Nye Dancing presents seventy-five new Tibetan Yoga postures and movements, woven into series of dances. As described in the introduction of Kum Nye Dancing,
"The exercises in this book are new. These are not traditional Kum Nye postures, but instead are based on temple practices I had learned as a young man in Tibet. I drew upon my recollections of exercises that prepare lamas for the sacred ritual movement colloquially known as lama dancing. Traditional lama dancing uses physical choreography to open up the self and liberate energy for Dharma activity; these exercises, intensifying feeling in similar ways, can tame resistance, resentment, and lack of cooperation. The practices in this book are invigorating rather than soothing, designed to energize the body and to wake up consciousness." – Tarthang Tulku
Kum Nye Dancing was introduced earlier this year during retreats in South America, Europe, and the United States. The body of knowledge has gained momentum due to its profound and quick results.
The Book Launch Will Include:

A lecture on the theory and esoteric practice of Kum Nye Dancing with international lecturer, director of Dharma Publishing and senior student of Tarthang Tulku, Arnaud Maitland.
A performance of the Kum Nye Dancing series "Opening the Nucleus of Self" - a transformative experience for both the audience and the dancer
Training in Kum Nye Dancing with Arnaud Maitland and renowned dancer John Lozano! Experience how these postures can connect you to the openness of being
This free event is open to the public! The Dharma Publishing Bookstore is located at 2210 Harold Way Berkeley, CA 94720.
For more information please check out the Dharma Publishing Website
About Dharma Publishing
Dharma Publishing is a non-profit, all-volunteer organization dedicated to preserving the culture of Tibetan Buddhism while contributing to the Western understanding of mind, well-being and human potential. We have a wonderful bookstore in Berkeley and we do events and lectures, book launchings, and promote a Calendar of Retreats throughout the year. Offering various courses and workshops in the Bay Area on meditation techniques as well as various meditation instructional audio CDs for those unable to attend our workshops in person. Our passion is to share our love throughout the Bay Area for Buddhist Books and Culture and to educate people on topics relating to Tibetan Buddhism and meditation and visualization techniques. Please give us a call at (510) 200-0981 to learn more about our very unique products and services that benefit the Tibetan culture.