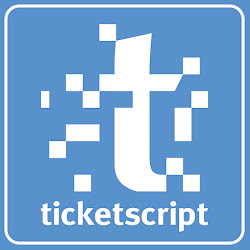 "We are very proud of our new partnership with Songkick. With Songkick we have added another strong promotion and sales channel to our platform." stated Frans Jonker, CEO of ticketscript.
London (PRWEB UK) 5 March 2013
Ticketscript enables organisers to promote and sell event tickets through the Songkick network. Songkick allows fans to track their favourite artists and be the first to know about events. Now ticketscript clients can make use of this extensive network by simply connecting their artists at the click of a button.
Ticketscript clients can now connect the artists, bands and DJs performing at their event to the Songkick platform. Fans will then receive personalised Songkick email and push messages for upcoming events of their favourite artists performing in their region and find a direct link to the ticketscript ticketshop to buy tickets. This functionality also extends to mobile and tablets as fans will be able to purchase through ticketscript's mobile optimised ticketshop and the Songkick app. This development provides events with the opportunity to sell tickets to a massive audience of engaged and motivated music fans.
Over six million monthly users of Songkick receive alerts for upcoming events and tour dates from their music library that is connected with their Spotify and Facebook account, bringing artists and fans closer together. The 5 million paid users of Spotify have the added bonus of receiving a service that continually evolves with their musical tastes. This also ensures that the event organiser is always reaching a heavily engaged audience of music lovers.
"We are very proud of our new partnership with Songkick. With Songkick we have added another strong promotion and sales channel to our platform," stated Frans Jonker, CEO of ticketscript. "With Songkick we can now market to passionate fans, but with the advantage that our clients are in total control of their own ticket sales and data. This development underlines our commitment to provide unique and powerful solutions for our customers to make their events a success."
"As a box office manager & live promoter, it's a fantastic addition to the ticketscript platform to be able to seamlessly add our events to Songkick. When we confirm a gig we just add the artist details to the event and the ticket link appears under the artist event in Songkick as a sales channel. With one click we can add events to Songkick's platform automatically without the need to do it ourselves," enthused Rebecca Walker, Live Promoter & Box Office Manager of The Leadmill venue in Sheffield.
-END-
About ticketscript
Ticketscript, the European market leader in online, mobile and social ticketing solutions, provides over 50,000 events with a plug-and-play ticketshop that enables event organisers to sell tickets and promote events online, through mobile phones and on Facebook. The web application arranges the delivery of e-tickets and mobile tickets, gives access to a mobile event app and also provides access to a sales network of over 900 physical sales outlets in Europe. It provides real-time sales statistics and contact details of customers which can be used to promote future events.
The organisation was founded in 2006 with offices in London, Amsterdam, Barcelona, Berlin, Düsseldorf and Antwerp. Ticketscript operates with music events, festivals, trade fairs, exhibitions and sports events and examples of the brands, events and venues ticketscript works with include Hed Kandi, The Leadmill, Waterstones, EMI, MTV, Electric Ballroom, Ministry of Sound and Secret Cinema. For further information please visit http://www.ticketscript.com.
About Songkick
Songkick is the ultimate tool for fans of live music enabling them to be the first to know about events . Select and track the artists that you love, or upload them quickly from the likes of your Facebook liked artists, iTunes library and Spotify playlists. Songkick aggregates artist, concert, festival, venue, and ticket information making it easy for fans to track their favourite artists so they never miss them live . Fans can also use Songkick to share their concert plans on other social networks. With its Tourbox publishing tool, Songkick helps artists power their tour dates across the Internet through an unrivalled partner network that includes BandPage, foursquare, Hype Machine, MTV, SoundCloud, Spotify, VEVO, YouTube and now ticketscript.