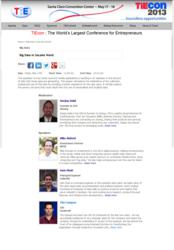 "Are you attending TiEcon 2013? It's going be an amazing event for entrepreneurs!" Sanjay Dalal, founder & CEO, oGoing
Irvine, CA (PRWEB) May 16, 2013
TiEcon, The World's Largest Conference for Entrepreneurs, is hosting an engaging panel on:
Big Data in SoLoMo World
Panel date and time: Friday, May 17 at 11:45 am
The explosion of new social, local and mobile applications is resulting in an explosion in the amount of data that these apps are generating. The SoLoMo panel session will explore the implications of the collection, analysis and use of this data for providing a better experience for the app users. The panel discussion will also explore the privacy concerns that could result from the use of personalized and localized data.
"It is making science and economics come together in a business friendly way to create opportunities for the entrepreneurs." Piyush Malik, Big Data Chair, TiEcon and Business Analytics and Optimization, IBM Global Business Services
"I am honored to participate and engage in the Big Data panel with Facebook CIO, LinkedIn Principal Engineer and KPCB Investment Partner. I am looking forward to sharing critical insights on Social, Local and Mobile media for the TiEcon attendees," Sanjay Dalal, founder & CEO, oGoing.
Panel Participants:
Tim Campos, CIO, Facebook
Sam Shah, Principal Engineer, LinkedIn
Mike Abbott, Investment Partner, KPCB
Sanjay Dalal, founder & CEO, oGoing
Learn more and register for this engaging panel here.
About TiEcon:
TiEcon 2013 is guaranteed to mesmerize with the hottest topics delivered by brilliant experts. In addition to compelling content in the Entrepreneurs Track on Saturday, TiEcon 2013 will devote Friday entirely to three high-growth tracks - Mobility, Big Data and Software Defined Infrastructure (SDI). Attendees can expect the usual high-impact networking opportunities in the Expo Hall and during lunch and cocktail receptions - that have launched many a successful startup or a blazing career opportunity. Join the excitement by going to http://www.tiecon.org
About oGoing:
Ogoing.com is USA's leading social network for small business. Ogoing provides owners, entrepreneurs and SMB powerful social media marketing platform that promotes the business, boosts online visibility, improves website traffic, raises SEO ranking, generates warm leads and attracts new customers. Join oGoing Now