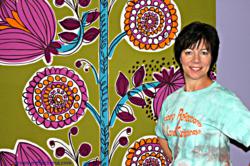 I love this Tie Dye T-Shirt
Orange, CA (PRWEB) November 28, 2012
A follow up to the popular Groovy Rebel™ design, which is now close to sold out, Groovy Reverb sports the familiar Groovy Reflections™ orange logo, and is hand tie-dyed in a teal / brown combo that "shouts" all things "groovy." The new Groovy Reverb design is available via the Groovy Reflection website, http://www.groovyreflections.com
The new color combination of teal and brown was chosen by fans and followers on Facebook, Google+, and Twitter according to a recent poll. The hues evoke images of brilliant waters and warm sand, volley ball games, wet toes, and picnics on the beach while listening to groovy tunes on a transistor.
"Reverb is about sound. The Groovy Reverb hand tie-dyed t-shirt's bold, happy design almost seems to project acoustical sounds of waves crashing. Call it reverb in a groovy, natural setting," said Gerry Wendel, Groovy Reflections™ Founder. For more information, please click on: Where to get tie dye shirts
"A strong presence on social networks such as Facebook, Twitter and Pinterest is important for Groovy Reflections." said Ms. Wendel. "The fact that these colors were chosen by folks that we interact with on a regular basis makes this new design even more special. With the holidays approaching, a Groovy Reverb hand tie dyed t-shirt would make a nice gift for a special groovy someone."
"These limited edition Groovy Reverb t-shirts will be processed using the same loving care that all of our hand tie-dyed shirts have been made with, added Ms. Wendel. "Love and Grooviness are proudly instilled, from the folding and banding to the final rinsing, drying and pressing. If anyone has ever asked the question 'where can I get tie dye t-shirts?' Groovy Reflections is the number one answer. "We are pleased to offer unique items to our groovy discerning customers." For more information, please click on: Tie dye tshirt
In addition to the new Groovy Reverb tie-dye t-shirts, Groovy Reflections™ offers a popular collection where the aqua-green combination has proven to be the most "cool" among customers. The company seeks to partner with additional independent businesses such as surf shops and records stores who are interested in offering Groovy Reflections branded products. The brand, though aimed primarily at boomers, welcomes everyone with a passion for all that Groovy Reflections celebrates, whether you are "two or 200". Please visit us, just click on: Tie dye t shirt
Groovy Reflections, based on Peace, Love, and Grooviness, was launched by Gerry Wendel in 2009 as a blog and later became a division of Reflections in Modland (R.I.M. LLC). The Groovy Reflections brand celebrates music and pop culture of the Sixties and Seventies via GroovyReflections.com and has a strong presence on Facebook, facebook.com/groovyreflections and can also be found at twitter.com/groovyreflctns on Twitter. The company's headquarters is in Los Angeles and Orange County, CA. In addition, under the R.I.M. LLC umbrella, Ms. Wendel operates ModlandUSA™, a marketing consultancy that assists small businesses through strategic planning and market research.
Michael T.A. Patrick, Director, Public Relations
Groovy Reflections
(714) 787-8800
http://www.groovyreflections.com