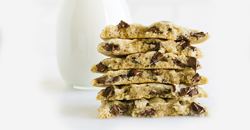 "Our passion is making people happy through 'warm cookie moments,' as we call them – the experience of receiving a box of warm cookies to help celebrate a milestone or brighten a tough day," said Tiffany Chen. "We're excited to start sharing these moments with our new neighbors in Lubbock."
AUSTIN, Texas (PRWEB) March 19, 2019
Tiff's Treats, the Austin-based original warm cookie delivery company, will open this May in Lubbock, Texas, serving Texas Tech University, Lubbock Christian University, downtown and most neighborhoods in the Central Lubbock area with its classic warm cookie delivery.
Located at 411 University Avenue near Jones AT&T Stadium, the store is perfectly situated between the Texas Tech campus and downtown, allowing both areas to receive deliveries of warm, fresh-baked cookies and brownies and cold milk and ice cream in a hurry when doors open in mid-May. Customers can place delivery orders for homes or businesses, or can drop in to satisfy a cookie craving or pick up their order if they prefer.
Tiff's Treats founders Tiffany and Leon Chen, who started the business 20 years ago as friends at The University of Texas at Austin, said the company has heard its social media followers' requests for a Tiff's Treats in Lubbock, and is delivering on those requests. They also cite Lubbock's collegiate energy and significant economic growth and development as factors in choosing this newest Texas location.
"Our passion is making people happy through 'warm cookie moments,' as we call them – the experience of receiving a box of warm cookies to help celebrate a milestone or brighten a tough day," said Tiffany Chen. "We're excited to start sharing these moments with our new neighbors in Lubbock."
Lubbock residents can look forward to a grand opening party benefitting a local charity when the store opens in May. Each Tiff's Treats store's grand opening celebration features warm cookies for $5 a dozen, free cookie gift cards and giveaways, and the featured local charity receives all of the day's cookie sales up to $5,000.
The charitably-minded cookie company took on $25 million of investor funding in 2017 that's allowed recent expansion throughout Texas and into new markets including Atlanta, Nashville, and later this summer, Charlotte, North Carolina.
About Tiff's Treats
Tiff's Treats created the warm cookie delivery concept. Tiff's Treats makes classic, baked-to-order cookies and brownies and delivers them straight from the oven to the home or office, WARM, in about an hour or so. Orders can be placed on demand or scheduled for a later date or time. Customers can order seamlessly via phone, online or the newly released Tiff's Treats app, all of which are supported by industry-leading technology and customer service. Founded in 1999, what started as two friends baking cookies at The University of Texas at Austin to help fellow students get through exams has now grown to 48 stores in Texas, Georgia and Tennessee with more than 900 employees, baking more than 100 million cookies since its inception. And the company is consistently focused on giving back: with grand opening fundraisers that fill needs for charities (and hungry bellies for Tiff's Treats fans!), Tiff's Treats has donated more than $150,000 to worthy causes. To learn more, please visit
http://www.cookiedelivery.com.