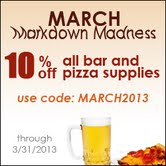 Everything a chef, bar or restaurant owner could ever wish for can be found on our website...
(PRWEB) March 21, 2013
In honor of the NCAA basketball tournament, TigerChef, the leading online supplier of restaurant supply and kitchen equipment, has announced March Markdown Madness. Recognizing that this exciting time for college basketball fans presents an excellent business opportunity for bar owners, pizza parlors, sports restaurants, and other food establishments, TigerChef is offering 10% off all pizza and bar supplies from now until April 08, 2013. To receive the discount, shoppers should present coupon code MARCH2013 at checkout.
With Selection Sunday come and gone and with 68 teams vying for a spot in the illustrious 'final four,' the coming weeks are a time when food industry businesses can cash in on the season by hosting viewing parties on game nights, by offering special 'slam-dunk' menu items, home delivery services, and more. With special promotions and prices on menu items such as beer, pizza, hot dogs, nachos, burgers, and other college favorites, food establishments can ensure that their house will be packed as the countdown to the championship game continues.
To prepare for the biggest showdown in college sports, bar owners might be especially interested in stocking up on TigerChef products such as beer mugs, pitchers, pourers and shakers, ice chippers, bar liners, hanging glass racks – and of course, cocktail glasses, champagne glasses, and ale glasses to raise a toast for teams still standing. Likewise, pizza establishments can save 10% during March Markdown Madness on commercial pizza ovens, pizza cutters, trays and pie servers, dough pans and dough rollers, and more.
"At a time when countless customers are tuning into the latest scores and game stats, food industry professionals can score big by taking advantage of March Markdown Madness and by being fully prepared for what could be a most profitable season," says TigerChef Chief Marketing Officer Sol Jakubowicz. "Everything a chef, bar or restaurant owner could ever wish for can be found on our website, and we're happy to get our heads in the game by offering terrific prices and savings."
Restaurateurs and professional chefs value TigerChef as a full-service source for over 200,000 products, including bar supplies. TigerChef takes pride in serving their customers from start to finish. They don't just sell products, such as chef supplies and kitchen equipment; they use their knowledge to help their customers craft their industrial kitchens into ideal workspaces. TigerChef staff serve as consultants regarding the products that they sell and even assist with kitchen design. They work with hotel chains, restaurants, and other commercial facilities. For more information about TigerChef products contact Stacey(at)tigerchef(dot)com or call 877-928.4437.