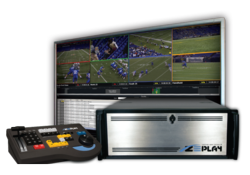 The products selected help advance the industry
Amsterdam (PRWEB) September 29, 2011
ZEPLAY, an instant replays platform manufactured by Tightrope Media Systems, is the recipient of a 2011 STAR (Superior Technology Award Recipient) Award given by the editorial staff of TV Technology Europe magazine at the 2011 IBC convention.
The STAR Award (Superior Technology Award Recipient) is designed to celebrate and showcase the preeminent technological innovations available to the broadcast industry. TV Technology Europe's editor reviewed a variety of products, examined the technical applications and their overall contribution to the industry, and then chose 25 winners.
"STAR awards are given to interesting new products that help a user save money or accomplish a task in an easier way," said Mark Hallinger, Editor of TV Technology Europe. "The products selected help advance the industry----some were chosen because of technical novelty or innovation, some because they filled an important gap in the production or transmission chain, and some because they were just cool products."
About Tightrope Media Systems
Founded in 1997, Tightrope Media Systems is the pioneer of web-centric digital signage and audiovisual head-end automation systems. Tightrope provides station automation, video servers, the Carousel Digital Signage system, and ZEPLAY, a multi-channel instant replay machine for stadiums, arenas and OB vehicles. Tightrope's award winning systems are used across North America in government, hospitals, universities, high schools and local television stations. You can reach Tightrope Media Systems at (866) 866-4118 or visit them on the web at http://www.trms.com.
About TV Technology Europe
TV Technology Europe is the region's leading magazine for broadcast technology. The magazine is published by NewBay Media. See http://www.nbmedia.com
###