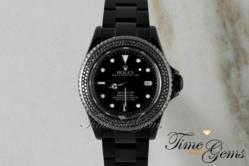 Time and Gems offers one of a kind Black Rolex Watches that can be customized for each clients. 1-888-658-5595
(PRWEB) March 17, 2013
Time and Gems has announced the continuation of its daily deals on men and women watches indefinitely. In addition to the daily sale on select items, Time and Gems is now liquidating all their winter models and offering savings of over $1000 on pieces suches as Rolex Daytona among many others. The company is one of the few that cut prices during the recession. The decision to keep prices low even after the economic recovery is a commitment to its clientele according to a Time and Gems spokesperson.
Most new and certified pre-owned watches can be purchased at an unbeatable price at Time and Gems' showroom or website according to the spokesperson. When asked how the company was able to survive with such low prices, the executive explained how wide its network of supplier was. Each member of the network of supplier is reputable with an authentic list of merchandise.
Buying a watch at such a low price from Time and Gems comes with several perks to. All pre-owned watches are certified and have been inspected before being put on sale. In addition, the company does offer a risk free 3-day return on almost all items. The 2-year warranty is one more incentive to purchase a luxury watch for him or her from Time and Gems.
Prices are low at Time and Gems and there is no indication that they are going back up anytime soon. Among some of the new and certified pre-owned brands sold at Time and Gems are Rolex, Cartier, Bulgari, and Breitling. Time and Gems is also recognized for its wide and unique selection of diamond, bezel, dial and band combination.
About Time and Gems
Time and Gems is the largest online luxury watch retailer worldwide. This company prides itself in having the largest selection of luxury watches for both men and women. With over 700 unique collections, this retailer offers exclusive luxury watches for every occasion. Time and Gems is an independent company and has been an authorized dealer of the Rolex brand for more than 30 years. Initiated in 1997 in Los Angeles, the company has grown its international market over the years to become the must go-to showroom where celebrities acquire the latest luxury watch trends.
Time and Gems is the leading pre-owned Rolex dealer for the fact that each luxury watches it offers guarantees the buyer excellent service. The watch retailer offers a comprehensive 2-year warranty and independent authentication and appraisal for insurance purposes. Furthermore, a buyer gets to have the luxury watch delivered in a luxury wood watch box with a velvet interior, a hand sewn polishing cloth and a detailed instructional manual.
To get more information Call 1-888-658-5595
or visit: http://www.timeandgems.com/