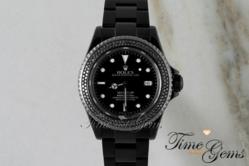 Time and Gems offers one of a kind Black Rolex Watches that can be customized for each clients. 1-888-658-5595
(PRWEB) March 06, 2013
Owning a watch is no longer so much about keeping time as about projecting power, social status, and a fashion sensibility; there is a growing trend in utilizing luxury watches as a vehicle for investment, and fashion statement among the younger successful generation.
A desire has emerged that makes watches attractive financial accessories, as demand for these luxury timepieces specially Rolex watches among households with $100,000 incomes and above has tripled in the past few years, according to Time and Gems research and client relations. As most luxury watches tend to keep their value and in many cases increase in value as they age, and as precious metals and stones increase in value.
Times and Gems share the following reasons why most of their clients buy Rolex watches and other luxury brands:

In more than 10 reviews during the holiday season and their Valentine's Day specials (from December 2012 through January 2013), the reason for purchase was "PRESTIGE". As one buyer had said: "It's plain and simple. I get to wear a masterpiece and my colleagues and friend get to see and admire it. If you are a businessman, a nice watch symbolizes your success." Although many people will deny it, one of the most compelling reasons to wear a nice watch is the prestige.

Although prestige is the most obvious reason why one might want to own and wear a luxury watch, but it's not the most important reason. The number one reason most of Time and Gems clients had named was "Quality".
Like the saying goes, "you get what you pay for", a high end watch will last for years and years, and can be passed down as a family heirloom. Not only quality watches are more durable and can better withstand wear and tear. With little care and maintenance they will run for years and years.
On top of everything brands like Rolex and Cartier will hold their value over time. But for those looking to buy a luxury watch as an investment, the best ones to look for are the certified pre-owned pieces, says Tom, a Time and Gems' representative.
"Many people might not realize that appreciation in value of many watch brands is inevitable. As the retail prices for Rolex, Omega, Breitling, and others, increase every year. The relative style of most of these high-end watches remains consistent. As a result, as the pricing of new models increases, the demand for pre­owned watches also increases," says Tom.
Time and Gems offers a comprehensive 2-year warranty on all products, and in the event a timepiece stops working, it can be shipped overnight back to their Los Angeles logistics facility, on Time and Gems UPS or FedEx account. They will fix or exchange the timepiece immediately at no cost. All of our timepieces are shipped with original manufacturer's serial numbers intact and independent authentication. In addition, their in-house team of Rolex certified watchmakers ensure that all the timepieces are indeed 100% original and authenticates each watch.
Time and Gems has been selling luxury watches, specifically Rolex Datejust, over the past 30 years and retailing to customers worldwide online for the past 9 years. Their collection of luxury watches including Rolex Datejust and Rolex Presidents is in the hundreds, making them the largest online retailer of Rolex watches in the USA.
Time and Gems, the leading retailer for PVD watches, is an independent company not affiliated with any watch manufacturer or distributor, including the ones mentioned in this document. Rolex is a registered trademark of Rolex Watch U.S.A. and Rolex International, including the Men's Rolex Watches model, Rolex prohibits their authorized dealers from selling online and discounting from Rolex mandated retail prices.
For more information about certified pre-owned luxury watches or to find out about Time and Gems prices, call or visit them online:
1-888-658-5595
http://www.timeandgems.com